Thank goodness we have finally put 2020 behind us. Sadly, we still have some way to go, but there is finally light at the end of the tunnel, as the vaccines roll out.
It's been a really tough year and it can be hard to see the silver lining in the darkest cloud we've ever seen. But there was an upside for the planet – and we must try to carry that benefit into 2021 and beyond.
We appreciate nature, for one thing. Nothing helps you appreciate the great outdoors more than being locked inside! A recent study showed that lockdowns, when exercise time, was the only permissible escape, encouraged some Americans into their local parks for the first time ever. For many more of us, walking or other outdoor activities are now a regular habit. At times, the only way to meet up with friends has been during a walk – perhaps parks will now take the place that coffee shops used to fill.
Another benefit of the lockdowns to our planet is that we have travelled less. Between March and May 2020, atmospheric Nitrogen Dioxide (NO­­2­) levels dropped by up to 30% across Europe, Asia and North America, with this drop mainly associated with less global transport. It's hardly a surprise to hear that there was a 75% decrease in UK motorway traffic and a 60% decrease in global air traffic. What's more amazing is just how significant this has been on our health – a 25% fall in harmful emissions in China this past year is believed to have led to an 11% increase in air quality. This decrease included a 200 million tonne reduction in CO2 emissions – estimated to have saved around 77,000 lives!
A drop in surface Ozone (O3) concentrations in the early months of 2020 also had an unexpected effect – it has been linked to a possible 2-8% increase in global wheat yields!
Not only has this lockdown illustrated clearly just how important taking care of our planet is to us (it is literally life-saving!), but it has also shown us that we can reverse a lot of the damage very quickly, if we make big changes to how we live! Take a look at the now famous NASA image showing the change in nitrogen dioxide levels in China from January to February. This difference is staggering, and it occurred in only a month and a half.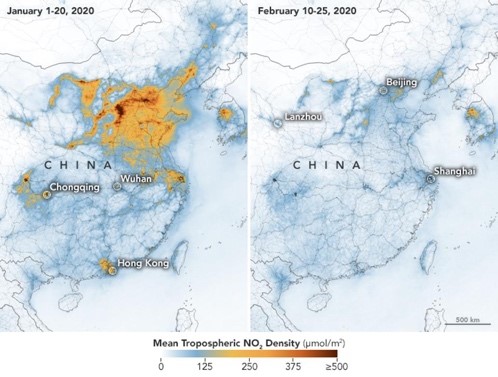 Source: NASA
Or, what about this photo comparing New Delhi, India in November 2019 and March 2020. Again, in just 4 months we can see the positive impact a reduction in traffic can have on our planet, and therefore on us!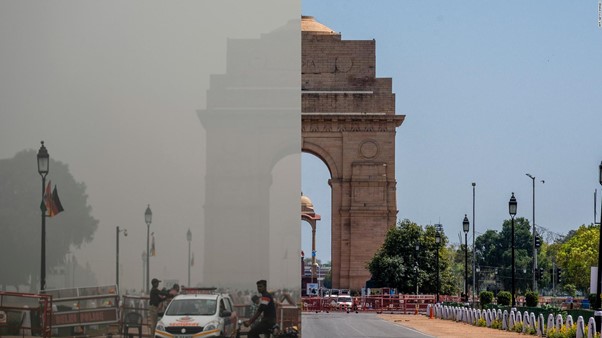 Source: CNN/Getty Images                    New Delhi, India.  Nov 2019 – Mar 2020
Whilst 2020 seemed to be a never-ending stream of negative news, we can take a huge amount of confidence and hope from the remarkable recovery our planet has shown, thanks to our lockdown efforts. So, if your resolutions for 2021 include getting out for more walks, or cycling instead of driving where possible, you can be confident that you will be having a positive and meaningful impact on the planet – 2020 has taught us that much, at least!
Dentener, F., et al. (2020). Lower air pollution during COVID-19 lock-down: improving models and methods estimating ozone impacts on crops. Philosophical Transactions of the Royal Society A, 378(2183)
European Transport Safety Council https://etsc.eu/covid-19-huge-drop-in-traffic-in-europe-but-impact-on-road-deaths-unclear/
Khan, I., et al. (2020). COVID-19 pandemic and its positive impacts on environment: an updated review. International Journal of Environmental Science and Technology, 1-10.
Read Next