Saturdays can still be 'Fish & Chips night' without worrying about your waistline. You'll be surprised at how simple and quick it is to make your family delicious breaded fish in the time it takes to get to the chippy and back.
Gluten-free (if using gluten-free flour and breadcrumbs)
Fruit: 0; Veg: 1; Added sugar: 0 tsp
Servings: 2
Prep time: 25 minutes
Cooking time: 35 minutes
Ingredients:
For the chips:
1x fist-sized sweet potato cut into wedges (skins-on)
1 tsp olive oil
For the fish:
150g portion cod fillet; sliced into fish finger sized chunks or left whole
2 heaped tbsp plain flour
1 small egg, beaten
2 heaped tbsp breadcrumbs
Seasoning (e.g. cracked black pepper, chilli powder or Cajun spice)
1 tsp olive oil
80g frozen peas
2 tsp tartare sauce or tomato sauce
For allergens, see ingredients in bold.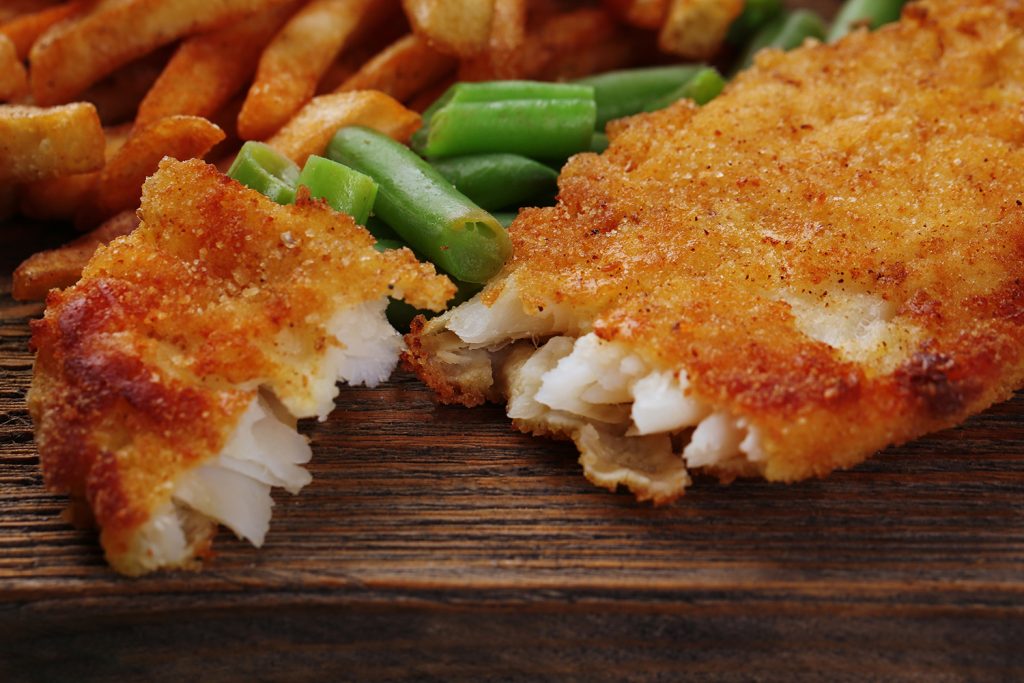 Method:
Pre-heat the oven to 200°c. Spread the chips onto a baking tray and drizzle with olive oil. Pop in the oven for 25 minutes, until cooked through.
Meanwhile place the flour, egg and breadcrumbs into separate large bowls ready to dip your fish into. Mix your seasoning into the breadcrumbs, about 1 tsp should do.
Dip each fish fillet or fish finger into the flour, then (using your other hand) into the egg, then (back to the other hand) into the breadcrumbs, smothering at each stage. Place each piece onto a piece of foil.
To cook the fish, place a large frying pan over a medium-to-high heat and add the olive oil. Once heated through, add the fish; you should hear a little sizzling.
Heat through for about 5 minutes on each side. Meanwhile pop your peas on to boil.
Once fish is cooked through serve either with your chips and peas or in a bap with your choice of sauce, a slice of tomato and a few lettuce leaves.
Read Next