Pancakes are a great option for breakfast, brunch or even an after dinner treat. So get your frying pan out and flip those pancakes. It's easy to stay healthy with pancakes; just try this simple recipe and enjoy the health benefits of yummy fruit toppings for your pancakes.
Pancakes topped with fresh fruit and Greek yogurt
(makes 6)
Ingredients
For the pancakes:
50g plain flour
1 large egg
150ml milk
1 tbsp coconut oil plus a little extra for frying – or use butter if you prefer
Toppings:
A handful of your favourite fresh fruit (blueberries, strawberries, raspberries, banana)
1 tbsp of plain Greek yogurt
Method
Put the flour, eggs, milk, 1 tbsp oil and a pinch of salt into a bowl or large jug and whisk to a smooth batter.
Set the batter aside for 30 minutes to rest if you have time, or start cooking straight away.
Set a medium frying pan or crepe pan over a medium heat and carefully wipe it with some oiled kitchen paper.
Once the pan is hot, cook your pancakes for 1 minute each side until golden, keeping them warm in a low oven as you go.
Serve with 1 tbsp of plain Greek yogurt and a handful of fresh berries.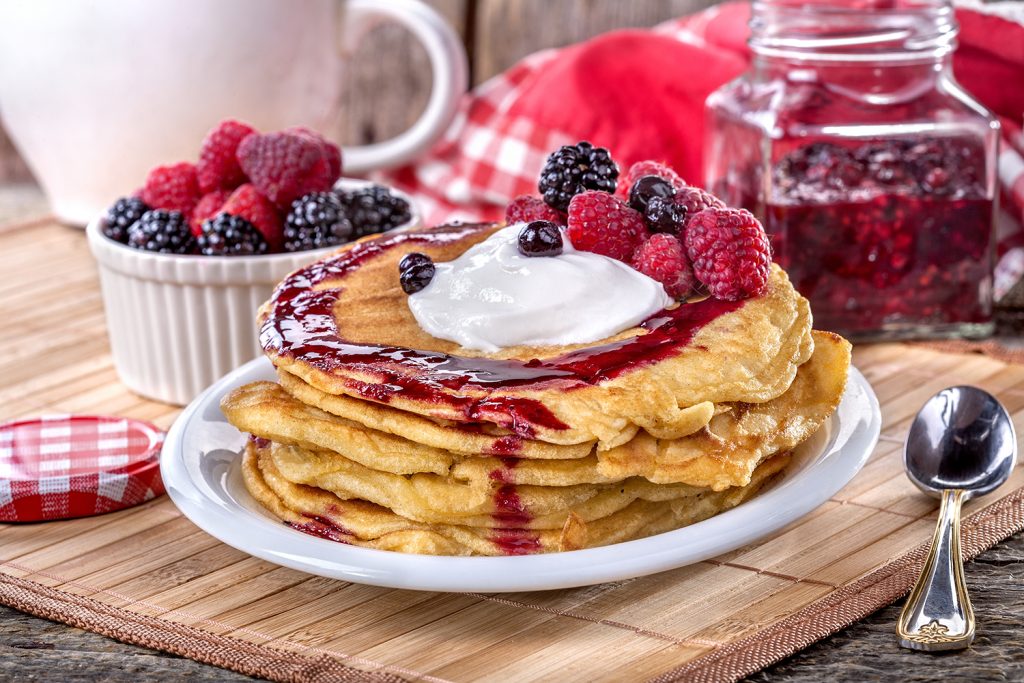 If you are gluten sensitive, you don't have to miss out. There are plenty of recipes out there that use almond flour instead. And nut milks can be used for those with dairy intolerance too. Coconut cream can be used instead of Greek yoghurt to give a delicious topping.
Read Next