Travel is often cited as one of the biggest contributors to global emissions on a personal level.
But it doesn't have to be all bad. Ideally of course, we should simply stay put, but with so many wonderful places to visit, it would be rather sad.
How, then, can we continue to travel, but with less of an environmental impact?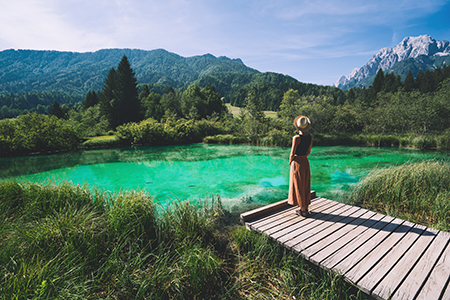 Fly less often
There is no doubt that the surge in air travel, mainly due to budget airlines, has taken its toll. Globally, aviation produced 2.4 percent of total CO2 emissions in 2018 [1], which ranks it alongside entire countries like Japan and Germany in the emissions league table.
It has become so cheap and easy that we often forget that other forms of travel exist. The stress of flying during Covid put many people off, however, and now the under-staffing, cancellations and increasing costs are making air travel less tempting.
Maybe it's time to think about more sedate and less carbon-emitting forms of travel like cycling, train travel, an electric car road-trip, or even walking!
If you want to take to the water, experts say that cruise ships can emit between three to four times more carbon dioxide per passenger per kilometre than flying, so choose a sailing boat if you want to take to the water.
By choosing alternatives to flying, you could also boost your fitness, find adventure closer to home or discover a more relaxing way to see the world.
Choose with care and consideration
Many destinations are realising the value of eco-tourism and encouraging responsible travel. Some cities are restricting the number of tourists or levying a 'green' tax. Check out websites like Responsible Travel for ideas on places that have made environmentally conscious tourism a priority, whether worldwide or closer to home (St Kilda in Scotland was a previous award winner). Look for the Fair Trade Tourism certification or other evidence that responsible tourism is promoted.
Then, if you do fly, choose an airline that is genuinely doing its bit to offset carbon emissions rather than just green-washing. Sustainable Aviation UK has committed to achieving net zero emissions by 2050, apparently accommodating a 70% growth in passengers whilst reducing net carbon emissions levels from just over 30 million tonnes of CO2 per year down to zero through smarter flight operations, new aircraft and engine technology, sustainable aviation fuels and investment in carbon reductions. According to the UN, a huge amount of climate damage will have occurred by 2050, though, so we need to use our purchasing power to force faster action by choosing airlines that are taking action.
Volunteer
You can go even further by volunteering in environmental projects and make your holiday a real force for good – a positive change from sunbathing! Check out Boundless.co.uk for the best eco-volunteering holidays in UK and Europe.
Stay responsibly
Once you have chosen your destination, make sure you select accommodation that also considers the environment and supports the local economy rather than sapping money and resources for a huge, international hotel chain. Websites like bookdifferent.com make it easy. Or perhaps you can rediscover the joys of camping – fancy yurts, treehouses or other imaginative ideas from companies like Canopy and Stars can make it wildly different from those childhood memories of soggy sleeping bags.
[1] 
Climate change and flying: what share of global CO2 emissions come from aviation? – Our World in Data
Disclaimer: Articles are for general information only – customers should always seek their own independent advice. Vavista is not affiliated with the organisations/businesses mentioned and does not recommend or endorse any of the included products or services. For more information, click here.
Read Next