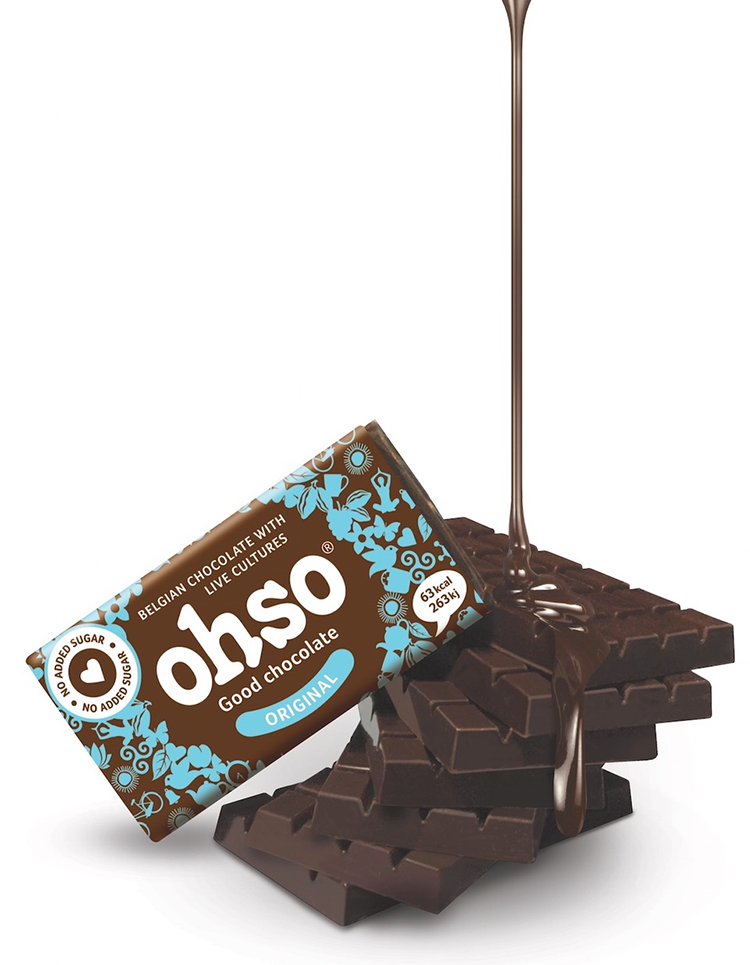 We love the ethos of your brand and we're certain our customers will too, but we'd like to know what inspired you to set up OhSo Chocolate?
At the time I was suffering from IBS and was researching the effect of probiotics (good bacteria) on the condition. There seemed to be an overwhelming amount of positive studies on the benefits of taking probiotics and the effects on not only IBS but so many other conditions linked to the gut. These benefits ranged from mental health to your immune system and digestive health.
I discovered that by encapsulating the live bacteria and mixing them in chocolate they were delivered to the gut more effectively, in fact 3 times more survived passing through the stomach than dairy products….. So, what could be better, a delicious bar of chocolate that had amazing health benefits.
We get the impression that people are paying a lot more attention to their health and wellbeing – why do you think that is?
It's a clear fact that we are all living so much longer and with this comes the desire to maintain a good lifestyle and positive health throughout this longer life we have. There is so much more knowledge out there on ways to maintain your life quality.
The younger generation are also focused more than previous generations on not only the health of the planet but their own fitness and health. They are very inquisitive and energised when it comes to ways of being proactive with their physical and mental health, be it probiotics, natural supplements or holistic fitness regimes.
What do you do to keep fit and healthy?
We have 3 dogs and live in the heart of the New Forest so walking every day is a real pleasure. I am not a gym person but do love Yoga and Pilates as this helps my fitness but also it is amazing for your feeling of well-being. I love my food and take a great interest in having a good diet of healthy ingredients that come with good provenance.
Here at Vavista, not only do we offer wellbeing guidance, we are also a life and car insurance brand, so we have to ask… What car do you drive?
Being in the forest we are lucky enough to cycle and walk to work. However, it is also important to have a car that copes with the countryside, is comfortable and also can be loaded up with a tonne of chocolate to take to a show! For all these reasons we love our dependable Land Rover Discovery 4, it does all the jobs brilliantly.
Being environmentally friendly and sustainable is something that we are passionate about. How is your business doing its bit for the environment?
Absolutely, we are very focused on the environment around us, both in the business and our day to day life.
All the ingredients of OhSo are natural, we use no artificial flavouring or sweeteners. Our coco beans are sustainably sourced and we support a programme called "Cocoa Horizons", it  is an impact driven program focused on cocoa farmer prosperity and helping build self-sustaining farming communities that protect nature and children.
All packaging is recyclable and we are constantly striving to find ways of improving. Our new packaging, due shortly, will be fully compostable.
Read Dr Sally's thoughts on OhSo Chocolate here 
Read Next