The school holidays should be a time of fun, time off work, and potentially spending relaxing time with family and friends. However,  research by Lloyds Bank has shown that around 70% of drivers find the thought of getting behind the wheel fills them with nerves…
Did you know?
Driving confidence often comes with experience, but surprisingly there are approximately 1.35m licence-holders who have passed their test but not yet hit the roads. For them, and more, the prospect of driving over a busy holiday season may well be daunting. Well, panic no more – Vavista has a few simple tips to make driving during the school holidays less stressful and more fun!
Our top driving tips for safe school holiday driving
Plan your journey before you go on the trip: You might have a lunch invite to somewhere new. If you are nervous about driving somewhere you've never been to, plan the journey before you set off. It's so easy now to look up the route and destination on Google Maps, especially Street View so buildings and other landmarks look familiar when you get nearby. You can even identify your parking options in advance – Less uncertainty equals more confidence.
Don't forget some basic maintenance: Before making any long trip it's a good idea to have an idea of basic car maintenance should the worst happen. Watching car maintenance videos online can help,Haynes have some easy-to-understand basics, read motor magazines, or ask friends and family. Knowing what to do when something goes wrong, such as how to repair a flat tyre or top up your oil will make you more confident. And what about roadside recovery – are you covered by the AA, RAC or similar in case of breakdown?
Learn to fill up: Amazingly, around 5% of drivers (that's 2.2m!) have never filled their car with fuel. If you have a long journey or anywhere you risk being caught in traffic, make sure you have enough in your tank. You can minimise fuel anxiety by going to the station with a friend who does know how to fill up and let them show you how. It's easier than you think.
Driving is better with music, so create a holiday playlist: A playlist or audio book the whole family can enjoy will help to keep you all in a good mood. So, have some fun creating a playlist together, and get in the mood with a singalong which can help avoid you getting wound up, especially if you become stuck in holiday traffic.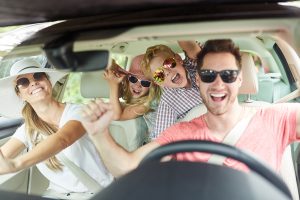 Don't be a drowsy-driver: Driving when tired is as dangerous as drink-driving – but whilst most of us wouldn't dream of driving over the limit, we think nothing of driving after a poor night's sleep. Caffeine can help a little but a good 7-8 hours the night before is much better. If the journey is long, regular stops for fresh air and a walk around can keep you alert. And, where possible, avoid driving late at night or mid-afternoon when your body is naturally less energetic. What's more, good sleep reduces stress – let's avoid holiday road-rage!
Fuel yourself as well as your car: Your car needs the correct fuel, but so do you! An empty stomach can be distracting or leave you tired, and while sugar based treats might give you a boost, this will be temporary and soon be followed by a sugar crash, that could leave you in danger of drowsy-driving. So have a proper meal like eggs and wholemeal toast before you set of And don't forget – stay hydrated, especially if we have sunny weather! Just swap the sugary drinks for good old-fashioned water.
Save the chocolate and sweets until later: it's probably no surprise that kids can get over-excited if they eat too much chocolate. Save that sugar high for when you arrive at your destination, and avoid the stress-inducing squabbles by letting them nibble on some fresh fruit or healthy nuts instead.
Disclaimer: Articles are for general information only – customers should always seek their own independent advice. Vavista is not affiliated with the organisations/businesses mentioned and does not recommend or endorse any of the included products or services. For more information, click here.
Read Next