As life returns to some sort of normality, we need to make sure we don't let some of the positives of lockdown slip.  Many of us are returning to the office, under different circumstances from before – perhaps a good time to make changes to our working routines to keep some of those healthier habits in place.
Don't let your daily exercise/time outdoors slip
One of the few positives that many have taken from this global pandemic is the increased time we have been spending outdoors, getting our daily exercise.  Whether it's long walks as a family, or a nice cycle ride for some alone-time, it's something that many of us have been enjoying.
It's all too easy for daily exercise to drop to the bottom of our priority list. It's hard to fit it in between a 40-hour work week (plus some!), commuting,  school/holiday club drop-offs or social commitments.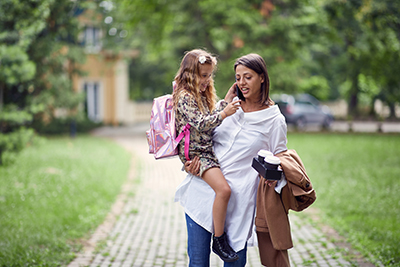 And it can be hard to choose exercise over an extra 30 mins in bed in the morning, or crashing on the sofa, remote in hand, after a long day at the office!
But it's worth looking at 30 mins, here and there, where you could perhaps squeeze in a little exercise.  Could you switch a half-hour trawl of the internet for a walk, or that hot and sweaty 60 minutes on the tube, in a mask, for a bike commute in the fresh air?  It's identifying these pockets that we can utilise, rather than having to 'find' the time, that's the key to making exercise a part of your day-to-day routine.
One major pocket of time that often gets skimmed over is our lunch hour.  Working culture is such that desk-bound lunches, or a quick sandwich between meetings, have become the norm. The idea that we take those 60 minutes for ourselves, to boost our health, fitness and energy levels is almost frowned upon. But, ironically, if employers encouraged their workforce out of the office at lunchtime to take exercise, they'd see an increase in productivity and more motivated, healthier staff!
Exercise is known to help de-stress – why not look into your current commuting method as an easy 'switch' to up your daily activity?  It's a journey you make everyday, so why not make it one that gets you fit and healthy?  Rather than arriving sweaty, frustrated, often late, not to mention the cost of public transport!  Cycling or walking to work are viable options for many and may be a better option than public transport at the moment. Too far or too hilly?  Don't forget the increasingly popular option of electric bikes.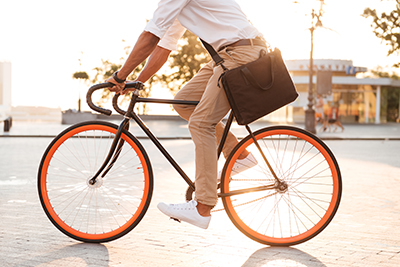 Keep up the homemade, nutritious lunches
If you have loved having the time to prepare, delicious, healthy lunches whilst working from home, you don't have to give this up on your return to the office.  It's all about the preparation.  To save time, why not make extra portions when cooking your evening meal, pop it in a reusable container (make sure it's planet friendly) and hey presto, lunch for work the next day is ready!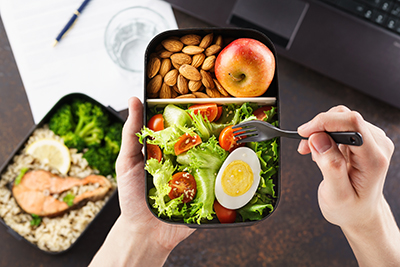 It is important you have a good lunch, not only to provide you with the essential nutrients that your body needs but also to give you energy to keep you going in the afternoon.
Avoid loads of processed carbs that give you an energy slump mid-afternoon. Instead have a smaller amount of higher fibre options such as granary bread, brown rice, pitta bread, seeded bagels, crackers or oat cakes.  Including protein such as chicken, fish, eggs or hummus is important, as these foods will help keep you fuller for longer.  As do healthy fats in the form of olive oil, oily fish, nuts and seeds. If you struggle to eat your '5 a day' try to include 1-2 portions at lunch time by eating some salad or fruit.  Check out our recipes for some lunchtime inspiration.
Not only do your homemade lunches maintain your healthy lockdown habits, but you'll save a fortune by not buying calorie-laden convenience foods every day.  And you'll reduce the impact all that plastic packaging has on our planet!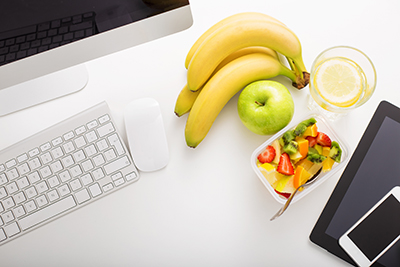 So, try to keep up the exercise and healthy eating as you head back to work – it will help your immune system keep you safe too!
Disclaimer: Articles are for general information only – customers should always seek their own independent advice. Vavista is not affiliated with the organisations/businesses mentioned and does not recommend or endorse any of the included products or services. For more information, click here.
Read Next