We all know that mornings can be a mad rush with the whole family trying to get ready and out of the door for work and school.  Sometimes the thought of preparing a healthy and delicious breakfast can seem overwhelming.
If you have been working from home, a leisurely breakfast may have become a regular fixture. But, if you're now heading back to the office, and adding in a commute, it may seem like there is just no time for breakfast. Especially a healthy one.  So, with that in mind, we thought we'd take some of the hard work away from you, and share some nutritious breakfast inspiration that is either Quick, Easy or perfect for On-The-Go…
Quick
Blueberry, Banana & Nut Smoothie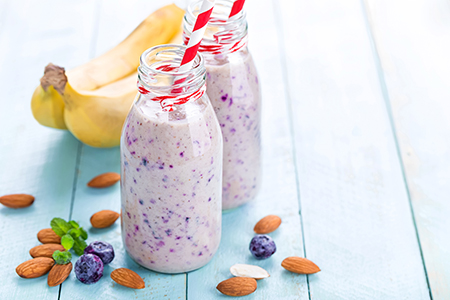 This smoothie is a quick and delicious breakfast idea and with frozen berries and almond butter, is like PB&J in smoothie form. Yum!  With this recipe you are ticking off a 2 of your 5 a day, as well as incorporating some healthy fats.
Serves 1
Ingredients 
250ml  of your favourite nut milk (almond, hazelnut, cashew)
1 x banana (frozen is best)
75g frozen blueberries
2 tbsp of your favourite nut butter (almond, peanut, cashew, hazelnut)
Method
Add all your ingredients to your blender and whizz until you've reached your desired consistency.
Avocado on Toast with Smoked Salmon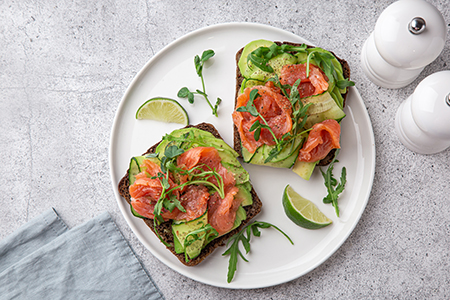 If you're looking for a quick and healthy recipe that feels like an indulgence, these avocado and smoked salmon toasts are bound to get you out of bed in the morning and they come in under 300 calories!
Serves 2 
Ingredients 
1 x avocado
1 x  lime
Salt
Pepper
Chilli flakes
2 x slices rye bread
75g smoked salmon
Cucumber
Method 
Toast the rye bread.  Meanwhile, add the avocado, juice of 1/2 lime, pinch of salt and pepper to a bowl and mash to combine.  Once toasted, top the rye bread with the mashed avocado and top with slices of smoked salmon. Use a vegetable peeler to create some cucumber ribbons and if you like a bit of spice, add a sprinkling of dried chilli flakes.
Easy
Bean Baked Eggs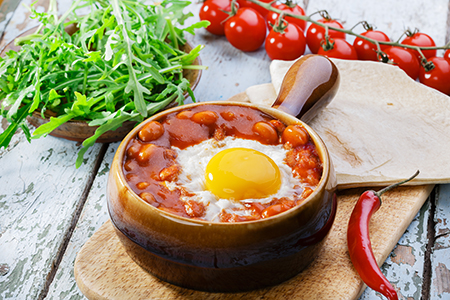 This super easy recipe has only has five ingredients and makes use of store cupboard staples. It's also a tasty and healthy dish.
Serves 2
Ingredients 
2 x 400g tinned tomatoes
1 x 400g mixed beans
4 x medium eggs
2 x slices of rye bread
50g chopped chorizo (optional)
Method 
Add both the tinned tomatoes and mixed beans to a wide based saucepan or casserole dish.  Add a pinch of salt and pepper and simmer for 10-12 minutes until reduced.  Add the chorizo to the pan now if desired.  Once reduced, make 4 indentations in the sauce and crack in the eggs.  Place under a medium heat grill for 5 minutes, until the eggs are set.  Meanwhile, toast the rye bread.  Et voila!
Super Simple Blueberry Pancakes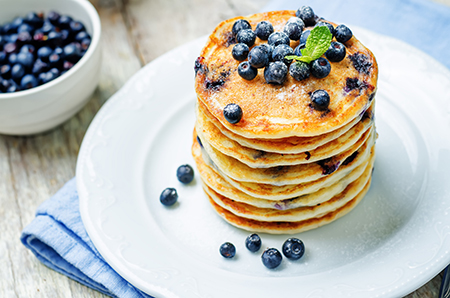 These super simple pancakes take not time at all and  you don't even need scales to weigh out the ingredients.  They're also great for making with the children!
Serves 4 
Ingredients 
125 g self-raising flour
250ml milk
200g blueberries
Coconut oil
Method
Add the egg, flour and milk to a bowl and whisk together until you have a smooth consistency.  Fold in the blueberries.  Heat 1/2 teaspoon of coconut oil in a frying pan, then add a ladle of pancake batter.  Heat for a couple of minutes on each side, until golden brown.  Repeat until all remaining batter is used.  Serve with some maple syrup, or a dollop of Greek yoghurt and some additional blueberries.
On-the-go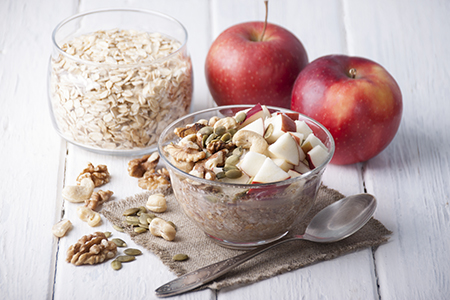 This fruity bircher pot can be prepped the night before, making them the perfect grab and go breakfast!
Serves 2
Ingredients 
70g porridge oats
1 apple
4 tbsp ground walnuts or hazelnuts
1/2 teaspoon of cinnamon
20g of your favourite chopped dried fruit (dates, apricots, raisins)
400ml of your favourite nut milk (almond, hazelnut, cashew)
Method 
Grate the apple. Place in a bowl with the ground nuts, cinnamon, oats and nut milk and leave to soak overnight.  In the morning, spoon the bircher into 2 bowls and top with your chosen chopped dried fruits.
Healthy Banana Bread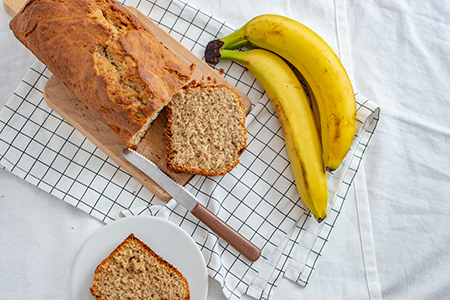 This healthy banana bread is naturally sweet and jam-packed with banana flavour.  It can be made in advance and is perfect for grabbing a slice to take with you when you leave the house in the morning.
Serves 6
Ingredients 
41g coconut flour
28g almond flour
1/2 tsp cinnamon
1/2 tsp baking powder
1/2 tsp salt
54g coconut oil
60g almond butter
2 x ripe bananas
2 tbsp agave syrup
1 tbsp vanilla extract
2 large eggs
Method 
Preheat oven to 180c and line a loaf tin with parchment paper.  In a bowl, whisk to combine coconut flour, almond flour, cinnamon, baking powder, baking soda, and salt.  In a large, microwave-safe bowl, combine coconut oil and almond butter. Microwave until coconut oil is melted and almond butter is more liquid, 10 seconds on high.  Whisk in mashed bananas, agave, and vanilla, then whisk in eggs.  Gently fold in dry ingredients until just combined.  Pour batter into prepared pan and bake 40 to 45 minutes, until top is golden and a toothpick inserted into the centre comes out clean. Let cool completely before slicing.
Or a simple black coffee?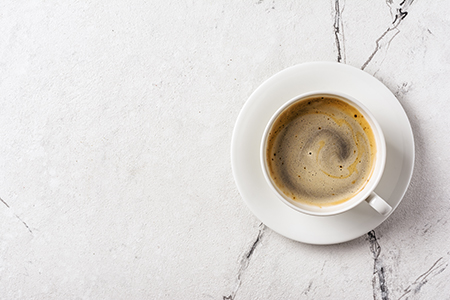 Breakfast doesn't have to be the best meal of the day. In fact, delaying your meal until mid-morning or even lunchtime means your body has longer to re-set. These longer periods without eating – mini-fasts – have been shown to help reduce insulin resistance which is a problem associated with pre-diabetes and obesity. So, simply having a black coffee or tea at the start of the day, and eating that little bit later, may help weight loss and health.
Disclaimer: Articles are for general information only – customers should always seek their own independent advice. Vavista is not affiliated with the organisations/businesses mentioned and does not recommend or endorse any of the included products or services. For more information, click here.
Read Next