Ditch the Christmas cards
Sending masses of Christmas cards which ultimately end up in the bin, creates so much waste.  Instead, this year, why not pick up the phone and call a loved one to wish them a Merry Christmas and enjoy a long overdue catch up?  Or perhaps wrap up warm and arrange a cosy, festive walk with a friend, whilst enjoying some Christmas lights?  As an alternative to sending your neighbours a Christmas card, think about inviting them over for a yuletide tipple.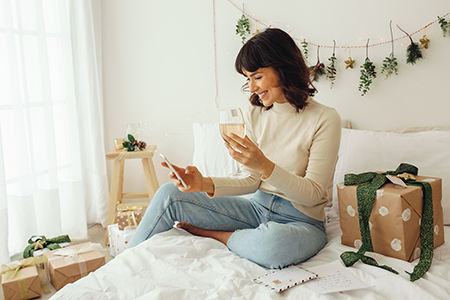 *According to the ONS, levels of loneliness in Great Britain have increased since spring 2020.  With all of the lockdowns, social distancing, and restrictions on travel and gatherings over the last couple of years – no doubt most people will appreciate the effort to speak over the festive period, rather than receiving a card.
Use recycled wrapping paper
Think about quirky and alternative ways in which you can wrap your gifts this Christmas.  Do you have pretty scarves sitting at the back of your wardrobe that never see the light of day?  Use them  to wrap presents .  We all have lots of gift bags leftover from presents we have received in a bottom drawer somewhere – make use of them!  Recycled brown paper also looks very rustic and festive which is a bonus.  Save some pennies and the planet at the same time by resisting the urge to buy new wrap this year!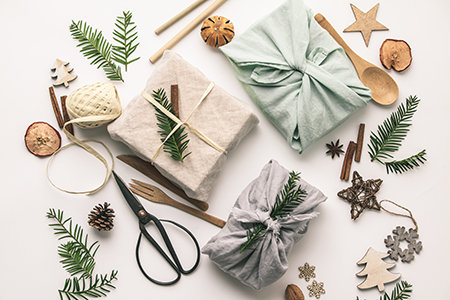 Eat less meat
Did you know that it's estimated cutting the meat out of your Christmas dinner can reduce the carbon footprint of your festive feast by half?!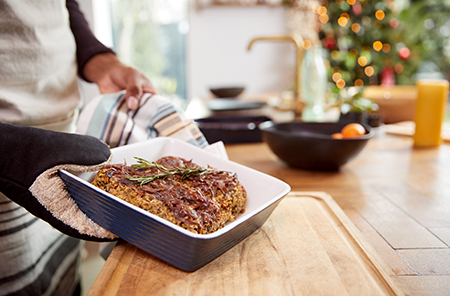 With many of us now turning to meat alternatives as an option, there are more delicious veggie and vegan choices in the supermarkets this year.  If you fancy getting busy in the kitchen yourself, why not try this delicious veggie Christmas dinner recipe: –
Vegetable Tart with Stilton and Candied Nuts
Serves 6
Ingredients 
500g block of puff pastry
3 carrots halved lengthways
3 parsnips halved lengthways
1 parsnip grated
2 tbsp olive oil
2 tbsp salted butter
3 shallots halved lengthways
2 shallots thinly sliced
Bunch of sage leaves finely chopped
4 rosemary sprigs finely chopped
2 crushed garlic cloves
100g coconut sugar
125 ml red wine vinegar
100g stilton
For candied nuts 
50g roughly chopped walnuts
25g coconut sugar
2 tsp butter
3 rosemary sprigs
Method
STEP 1
Heat oven to 200C/180C fan/gas 6. Roll out the pastry to just larger than a 30cm diameter ovenproof frying pan and use the pan as a template to cut out a round of pastry. Leave in the fridge, or a cool place while you prepare everything else.
STEP 2
Bring a pan of water to the boil, add the carrots and parsnips and cook for 5 mins. Drain and set aside to dry off slightly. Heat the oil and 1 tbsp of the butter in your pan and cook the sliced shallots and grated parsnips for 1-2 mins over a medium-high heat until just starting to brown, then add a good splash of water to the pan, stir to scrape up any brown bits, turn the heat down slightly, cover and cook for 4-5 mins, stirring every so often. The parsnips should be tender. Add the herbs and garlic and cook for another minute, then tip into a bowl, scraping out as well as you can. Season a little and set aside.
STEP 3
Add the coconut sugar and vinegar to the pan and bring to the boil. Cook for a few minutes until syrupy, then stir in the remaining butter. Set aside to cool slightly, then arrange the vegetables in the pan, fanning them out. Top with the herby shallot and parsnip mixture, pushing it into any spaces there may be. Lay the pastry over the top of the vegetables and push in the edges a little. Place in the oven and bake for 30-35 mins until puffed and deep golden brown.
STEP 4
While the tart bakes, put the nuts, coconut sugar and butter in a small frying pan with a pinch of salt. Cook over a medium-high heat for about 5 mins, stirring, until the coconut sugar has dissolved and coated the nuts. Add the rosemary for the last minute. Tip out onto a piece of baking parchment and leave to cool for a few minutes.
STEP 5
Once the tart is baked, remove from the oven and carefully turn out onto a serving board. Scrape out any bits that are left in the tin and add back to the tart. Bash the nuts to break them up and scatter over, along with the crumbled cheese.
Give homemade gifts
Making homemade gifts, will not only cut down on oodles of plastic packaging, but will mean so much more to the person you're gifting.  You can also have so much fun getting creative in the process.  Here's a couple of homemade gifts you can have a try at making – great for getting family and kids involved!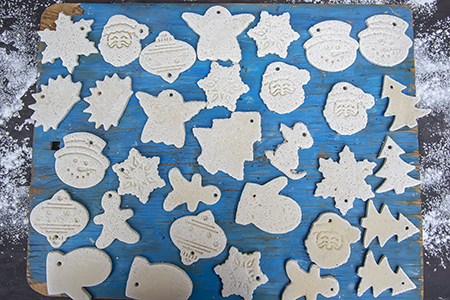 DIY Salt Dough Decorations
Makes 10-12 decorations
To make the salt dough, you will need: –
250g plain flour
125g table salt
125ml water
Method
1. Roll the salt dough out onto a lightly floured work surface to a thickness of about 5mm.
2. Use festive cookie cutters to cut shapes from the dough
3. Press the tip of a piping nozzle into the top of each shape to make a neat hole. If you don't have a piping nozzle, you can use a sharp pencil to poke a hole through the dough. Choose the position carefully – the hole needs to be near the top of the design, but not so close to the edge that it breaks.
4. Set your oven to its lowest heat. Put your shapes on a lined baking sheet and bake for 3 hrs, or until solid. Leave to cool completely.
5. Once cool, paint and decorate as you like – either with acrylic paint, felt-tip pens, glitter or festive stickers. Leave to dry. To finish, loop the ribbon through the hole and tie at the top, ready to hang on the tree.
Rent a Christmas tree
Did you know you can rent your Christmas tree?  It's becoming an increasingly popular and sustainable option when it comes reducing waste at Christmas.  It's great, because you can enjoy the benefits of a real Christmas, without the worry of what to do with it afterwards.  The tree will be replanted and cared for by the suppliers, ready for use again the following year.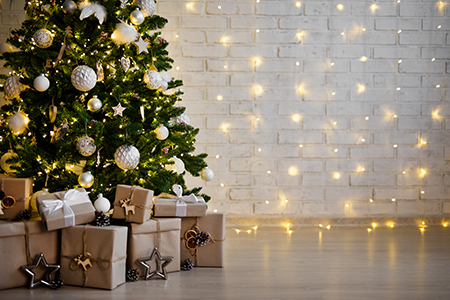 This means there's zero tree-waste!  There is also endless benefits to the plant, including the trees providing habitats for wildlife and best of all,  the trees continue to remove carbon dioxide from the atmosphere, between one Christmas to the next.
We advise carrying out some research into suppliers within your local area.  Here are some we have found around the country:-
Source
Disclaimer: Articles are for general information only – customers should always seek their own independent advice. Vavista is not affiliated with the organisations/businesses mentioned and does not recommend or endorse any of the included products or services. For more information, click here.
Read Next