Consumerism has taken its toll on the planet for sure. The environmental costs of sourcing raw materials, manufacturing in bulk and then packaging and distributing are huge. And then there is the disposal of all of these products when they reach the end of their use or we simply get bored of them. It's time to re-think our shopping habits!
Do you really need it?
Tempting though it is, do you really need that shiny new thing? Or will it soon lose its appeal and sit on a shelf. Plastic waste hits the headlines all the time, but the UN-supported Global E-Waste Monitor 2020 stated that electronic waste has increased significantly, with a record 53.6 million metric tonnes of electronic waste generated worldwide in 2019 [1]. It equates to over 7.3 kilogramme for every person on earth, with less than 20 % being ecycled.
Buy 'pre-loved'
With the fashion industry accounting for up to 10 % of global carbon emissions [2] and consuming roughly four percent of the annual global use of freshwater, the boom in the second-hand clothes market is much needed. What's more, apparently over a third of the ocean microplastics comes from synthetic fibres.
Fast-fashion items are flimsy and cheap and often discarded within a year, but, even before that, a quarter of all textiles is wasted in the manufacturing process.
Rather than contribute to those sad statistics, find pre-loved designer or high-street clothing using sites like Vinted, Depop, Vestiaire Collective, Beyond Retro, Rokit and others that are popping up every day.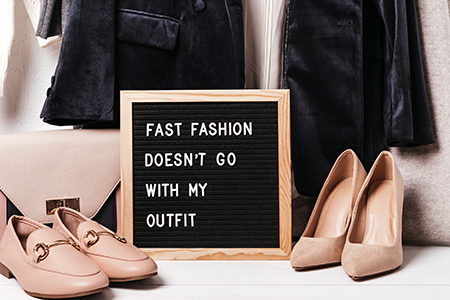 Rent rather than buy
When it comes to the occasional need rather than a day-to-day necessity, why buy when you can simply rent? Anything from a designer evening dress to a garden appliance can be yours for the time it is needed, at a fraction of the price (financially and environmentally) that it would cost to buy and store, unused, for most of the year.
Upcycle
We throw away so much, and then purchase again, when we could simply repair or refresh items that we already have. We have lost the art of repairing, but thanks to YouTube, you can find out how to restore virtually anything to good working order. Alternatively, find creative skills and bring a new lease of life to old furniture, clothes or junk.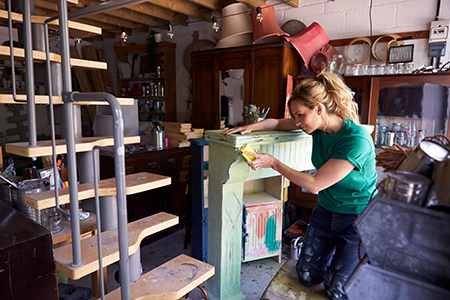 Choose brands wisely
If you must buy new, then find brands that have the environment at the heart of their business. Does your brand genuinely support sustainable practices? Look for evidence of certification such as membership of the B Corp – a not-for-profit organisation that aims to inspire and enable people to use business as a force for good. Other more focused initiatives include the better cotton initiative (BCI), the vegan trademark, the Soil Association Organic  Standards or other relevant accreditations. And, don't forget to check the environmental impact of the packaging and delivery that is used.
If you choose quality not quantity when it comes to essential purchasing, and reduce non-essential purchases in the ways described above, you can start to reverse the impact of consumerism on our precious planet.
[1] Global E-Waste Monitor 2020 – https://www.dandc.eu/en/article/why-other-world-regions-must-not-copy-western-consumption-patterns
[2]
Can fashion ever be sustainable? – BBC Future
Disclaimer: Articles are for general information only – customers should always seek their own independent advice. Vavista is not affiliated with the organisations/businesses mentioned and does not recommend or endorse any of the included products or services. For more information, click here.
Read Next