You can't deny it, lockdown has been hard, but this doesn't mean that your health should suffer. Many aspects of your life have undoubtedly changed, from your work situation to socialising and everything else in between. But don't let that stop you from maintaining and creating healthy habits.  Check out some of our tips for living a healthy lifestyle throughout lockdown.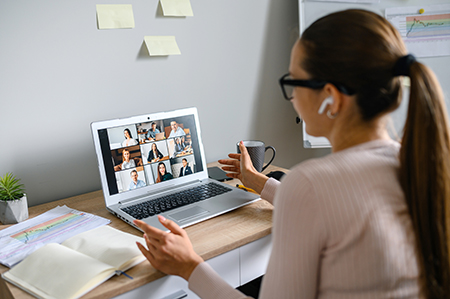 Step away from the screen
With everything having to go online during the pandemic, we are now spending more time than ever staring at a screen. Work meetings, gym classes and even the majority of doctors' appointments are now done virtually. But what does that mean for your health?
Research has shown that the blue light emitted from our screens can affect sleep patterns. This is further linked to weight gain. We therefore suggest putting your phone or tablet down for at least an hour before you go to sleep. Remember to give your eyes a rest from the screens every so often.
Set some goals or kick a habit 
It's always good to have something to work towards, especially when there's not a lot of activities to focus on at the moment.  Perhaps there's a DIY task you've been meaning to start around the house, or a new skill you've always wanted to master – a new language perhaps?
Or maybe you want to use this time spent in lockdown to make a positive change in your life, such as kicking a bad habit?  If you're a smoker, it's National No Smoking Day on 11th March, so now could be the perfect time to quit.  There's lots of help and support that can be found on the NHS website here, including a free downloadable app.
Routine is key
Routine equals productivity. Even though you are in the comfort of your own home it is important to get into that working frame of mind. It would be very easy to just stay in your pyjamas all day but if it's not what you'd do in the office, don't do it at home. Try and get ready for work as normal, even if your commute is only to the kitchen table. Remaining as 'normal' as possible will really help your mental health.
Take all your usual breaks and a proper lunch break. Use this time to get up and step away from your screen. If you have time, try and do an activity completely unrelated to work.
With World Obesity Day taking place in March, it's a great reminder that we need to move more.  Getting outside, going for a walk or doing another form of light exercise will help you refresh and refocus for your afternoon of work. Not to mention the endorphin release.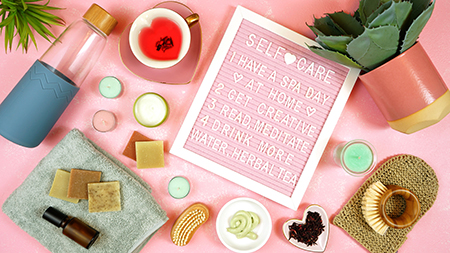 Take some 'me time'
This is a stressful time for many, so take a break, step away from the 'real world' and relax.  With 20th March marking the International Day of Happiness, think about something that you could do to make you happy.  Going for a walk, having a bath or phoning a friend are all great ways to destress and put a smile on your face.
Mental health should to be made a priority during this time. If you are struggling, remember that you are not alone. Simple activities such as meditating can help clear your mind. Don't worry if you have never tried this before, there are plenty of 'how to' videos on YouTube. There are also apps such as Calm that can support you.
Get moving
Like many, you may be working from home. This may have led you to work on a make shift desk. Whether this is your dining room table or even your sofa, these may not be the best for your back and whole body. Some key things to remember when sitting at a desk;
Keep your laptop or computer at least arm's distance away.
Make the top of your screen eye level, you don't want to be tilting your head constantly.
Keep your feet flat on the floor and knees at a right angle.
Always aim for relaxed shoulders and bent elbows.
Aim to get up every hour, not just to go to the fridge! This will release tension that is caused by sitting in the same position for too long.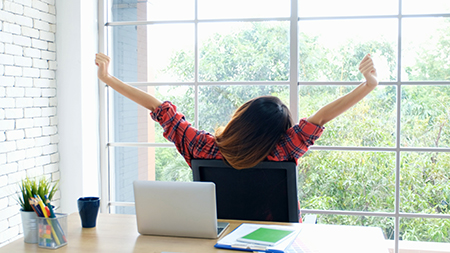 We hope these tips help you feel your best during these difficult times.
Read Next