Chocolate is a favourite at any time of the year, and with such an array of amazing recipes and photos being shared over the web, you'd be hard-pushed to find somebody who isn't craving a chocolatey treat. But instead of feeling guilty, take a little look at some of chocolate's (or rather, cocoa's) hidden health benefits…
The delicious taste, smell and texture of chocolate has had people hooked for almost 2,000 years. However, it is actually the cocoa in chocolate that gives it healthy properties – and cocoa doesn't necessarily have to come with the sugar and fat that makes it into the chocolate we know and love. High-quality cocoa powders, in particular raw cacao powder, are great ingredients to use in baking and cooking to get that chocolatey hit without the added sugar and fats (check each particular brand for added sugar).
But, how is chocolate actually made? Seeds from the cacao plant undergo natural fermentation before being processed into the key ingredients for making chocolate – namely cocoa fat and cocoa powder. It is the cocoa powder that contains the richest source of flavonol compounds called procyanidins, catechins and epicatechins. These are types of antioxidants (prompting the naming of dark chocolate as a 'superfood') and have numerous health benefits.
However, the steps involved in processing the cocoa seeds can affect how much of these antioxidants are left by the time we come to eat our chocolate. These steps include fermentation and roasting of the cocoa beans and alkali processing. Alkali processing is a step that is used to lower the bitterness of cocoa powder commonly used in drinks, cakes and biscuits. It may cause a loss of up to 98% of one of the most important antioxidants, epicatechin.
Natural cocoa powders (sometimes called cacao powder) have the highest levels of flavanol antioxidants and a recent study showed that cocoa and dark chocolate products also contain high levels of resveratrol, another antioxidant that is also found in red wine and has similar health-giving properties as described below.
In addition, cocoa contains substances called methylxanthines, which may also be responsible for some of the health benefits of cocoa. The methylxanthines found in cocoa include small amounts of caffeine, which is obviously a stimulant. However, present in greater amounts is a substance called theobromine, associated with increased sleep – hence the ritual of a cup of cocoa before bed.
So, when choosing your chocolate, look at the label and choose dark chocolate with higher levels of cocoa solids to get maximum benefits. A bar containing 70% cocoa solids has about twice as much health-giving antioxidants per serving as a bar with 35% cocoa solids.
NOW FOR 9 REASONS WHY CHOCOLATE, OR MORE SPECIFICALLY COCOA, IS GOOD FOR YOU:
1. COCOA MAY HELP PREVENT MEMORY LOSS
Scientists at Harvard Medical School suggest that drinking two cups of hot chocolate a day may keep the brain healthy and prevent memory decline in older people by preserving blood flow in working areas of the brain.
The team tested the memory and thinking skills of 60 older people before and after a 30-day period drinking two cups of cocoa per day. Half of the participants had cocoa high in antioxidant flavanol, the others had a low-flavanol version.
They found that participants with impaired blood flow showed a significant improvement in memory and speed of brain function if they had been drinking the standard flavanol-containing cocoa.
So, a cup of cocoa and a good night's sleep has even more benefits than previously thought!
2. COCOA MAY REDUCE BLOOD PRESSURE
A review of numerous trials has found that consuming dark chocolate or cocoa may significantly reduce blood pressure. Even amounts as small as 6 grams have been shown to reduce blood pressure compared to eating a similar amount of white chocolate, which doesn't contain the beneficial compounds found in dark chocolate.
3. EATING CHOCOLATE MAY MAKE YOU BETTER AT MATHS!
Foods containing high levels of cocoa flavanols, have been shown to increase blood flow to the brain which may improve performance in mentally demanding tasks. In a study of 30 adults, it was shown that they performed better in maths tasks, and felt more alert, on the days when they were given drinks containing high levels of cocoa flavanols than on days when they weren't. So, a piece of dark chocolate when struggling with a difficult work assignment or exam may be worth a try!
4. COCOA MAY HELP CHRONIC FATIGUE SYNDROME
Scientists from Hull York Medical School showed that people with chronic fatigue syndrome had improvement in their symptoms when eating dark chocolate as opposed to milk chocolate with added brown dye. They postulated that this was due to boosting levels of serotonin, a brain chemical, via the polyphenols found in dark chocolate.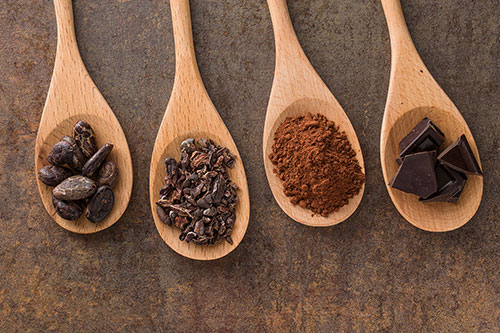 And for added reassurance, none of the trial participants put on any weight during the study. So, if you have chronic fatigue syndrome you have a good excuse to eat a small quantity of high cocoa content dark chocolate each day.
5. COCOA MAY IMPROVE CARDIOVASCULAR HEALTH
As well as decreasing your blood pressure, a review of 42 trials looking at over 1200 patients also showed a drop in insulin levels, and 'bad' cholesterol levels by having the flavanols found in cocoa. Both of these benefits may reduce the risks of heart and blood vessel diseases such as heart attacks and strokes.
Furthermore, the flavanol compounds contained in cocoa and chocolate increase blood flow, which may reduce the risk of heart and vascular disease.
6. COCOA MAY REDUCE RISKS OF DIABETES
In another study on cocoa, one hundred people with type 2 diabetes were given either cocoa and milk, or milk alone twice a day for 6 weeks. Those who had cocoa showed a reduction in cholesterol and inflammation levels – likely to translate to less health risks overall.
7. COCOA MAY PROTECT YOUR LIVER
An animal study demonstrated that daily cocoa may reduce fatty liver disease associated with a high fat diet. Fatty liver disease is increasing due to the obesity crisis and can, in some cases, progress to cirrhosis. So, whilst you are working on reducing your weight, a cup of cocoa rather than a gin and tonic before bed may be a better choice as far as your liver is concerned.
8. COCOA MAY HELP REDUCE STRESS
As many of us know, stress increases chocolate cravings – well, more specifically, sugar and fat cravings. However, there is some evidence that eating about an ounce and a half of dark chocolate per day can reduce levels of stress hormones and anxiety in people who feel stressed-out. (Note to self – we are talking here about one and a half ounces of dark chocolate, not a family sized bar of Dairy Milk!).
9. COCOA MAY ACTUALLY HELP WEIGHT CONTROL
Mice fed a diet high in cocoa (we are talking about cocoa here – not high fat and sugar, full blown chocolate!) had a lower body weight than those fed a cocoa substitute. If that isn't great news, I don't know what is!
So, the science shows that you don't have to feel guilty about a chocolate habit – it may well be doing you a lot of good. However, if your penchant is for white chocolate or poor quality milk chocolate that is mainly fat and sugar, you need to train your taste-buds to enjoy the delights of really good quality dark chocolate.
---
Read Next