Try these delicious, healthy lamb recipes from registered dietitian, Sophie Claessens

Lamb skewers with sun-dried tomato cous cous
This is a great recipe to get the kids involved in – they'll love building their own skewers. Be careful of the spikes though! Lamb is a great source of iron and B vitamins, important for energy, and the recipe contains 2 of your 5-a-day (or more if you use more veggies on your skewers).
Serves 4 (1 skewer each for the kids and 2 each for the adults)
Ingredients:
For the skewers:
400g diced leg of lamb
2 tbsp olive oil
1 tsp smoked paprika
1 tsp harissa
24 cherry tomatoes
6 skewers (soaked in water for 30 mins if wooden)
For the cous cous:
100g couscous
400g tin chickpeas, drained
300ml hot vegetable stock (only ½ stock cube needed)
½ bunch spring onions, chopped
6 sundried tomatoes, chopped
3 tbsp fresh coriander, chopped
Method:
Ensure wooden skewers have been soaked in water for 30 minutes to prevent catching fire on the hob. Start by adding the spices and 1 tbsp olive oil to the lamb and mixing through thoroughly – the longer you leave to marinate, the better.
Skewer a piece of lamb, followed by a cherry tomato onto each skewer until you have about 4 pieces of lamb and 4 cherry tomatoes on each skewer. Set aside on a plate.
Place a griddle pan on a medium heat and add the rest of the olive oil. Whilst waiting for the pan to warm through, add the vegetable stock and sun-dried tomatoes to the cous cous in a bowl, cover and leave to soak for 5 minutes.
Once your pan is hot, place your skewers on, cooking for about 5 minutes on each side until cooked through. Whilst cooking your skewers, check the cous cous after 5 minutes and fluff with a fork once all water has been absorbed. Mix through the chickpeas, spring onions and coriander, cover and put on the table ready to be served.
Once the skewers are cooked through, you're ready to enjoy! Serve each plate with some cous cous and skewers. Add a side salad to finish off if you'd like.
Remember – the more veg the better. Swap the cherry tomatoes for peppers or courgettes or try a mix.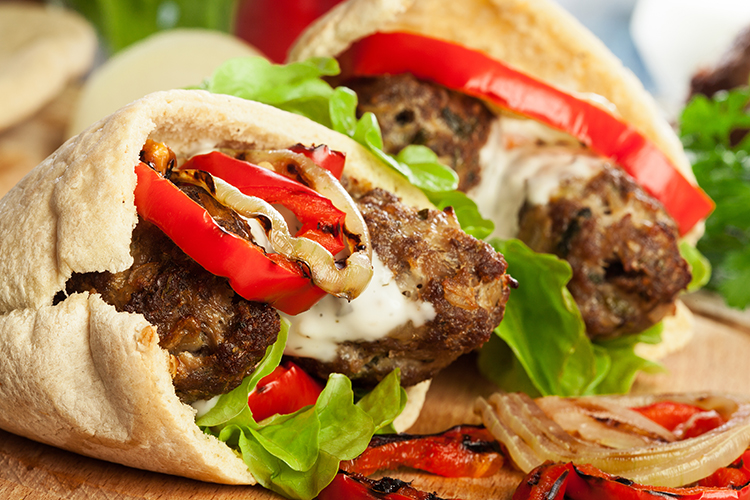 Leftover lamb flatbreads
If you're wondering what to do with your leftover lamb this Easter, make a tasty flatbread for your first day back at work and all your colleagues will be jealous! The lamb is a good source of protein and the wholemeal flatbread is a low glycaemic index carbohydrate, meaning that they'll both keep you full all afternoon so you won't be reaching for the usual mid-afternoon chocolate pick-me-up. Add plenty of leafy salad and you've got yourself a gourmet, healthy, delicious lunch.
Serves 1
Ingredients:
1 plain, wholemeal flatbread or tortilla wrap
2 tbsp yoghurt-style dip
Large handful leafy salad
1 small carrot, grated
75g leftover lamb (chunks or slices)
Sprinkling of smoked paprika
Method:
Place your flatbread or tortilla wrap onto a board. Spread evenly with the yoghurt dip and then layer the carrot, salad and lamb on top.
Roll up your flatbread, wrap in foil and store in the fridge (maximum 24hrs) until ready to tuck in. Easy peasy!
Read Next