Eggs Florentine Pizza
Shock, horror – a pizza on a healthy eating website…surely not?  Pizzas are actually a well-balanced meal: the base provides starchy carbohydrates for energy. the tomato sauce counts towards your 5-a-day and the mozzarella is a low-fat source of calcium and protein.  The test really is having the willpower to just stick to half a pizza!  Make a green side salad to fill up your plate so that you don't go reaching for more.
Serves 2
Ingredients
1 thin pizza base (shop bought or homemade)
4 tbsp passata
6 large basil leaves, chopped
1 tsp dried or fresh oregano
60g buffalo mozzarella, sliced thinly
175g fresh spinach, washed
8-10 cherry tomatoes, halved
4 medium eggs
Method:
Preheat the oven to 200⁰C. Place your pizza base onto grease-proof paper ready to be prepped.  Make your tomato sauce: Mix together passata, basil, oregano and 1 tsp good quality extra virgin olive oil. Spread your mixture evenly over the pizza base.  Place the mozzarella onto the pizza in an even layer followed by the cherry tomatoes.  Next wilt your spinach on the hob in 1 cm simmering water, covered with a lid. Alternatively place in a microwaveable bowl covered with pierced cling film and pop in the microwave for 2 minutes on full-heat.  Layer your cooked, drained spinach over the pizza. Bake the pizza for 10 minutes.  Finally, take the pizza out of the oven, make 4 wells in the spinach with the back of a spoon and crack the eggs in.  Pop back into the oven and leave for another 6-8 minutes until the egg whites are just set.  Serve with a leafy green side salad.  Be creative with your veggie toppings – try adding mushrooms, sweetcorn or roasted red peppers.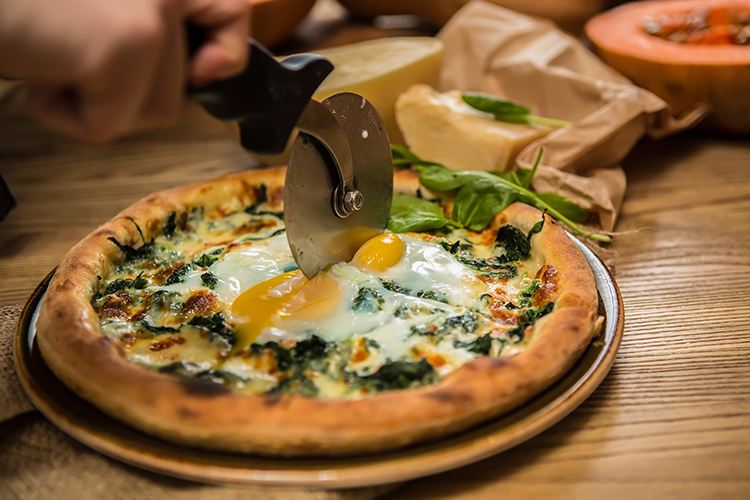 Devilled eggs
Looking for a themed snack? Take everyone back with this retro, high protein and tasty addition to the table.
Ingredients
12 large eggs, hard-boiled
6 tsp Dijon mustard
6 tsp lemon juice
3 tbsp fresh chives, finely chopped
Method
Shell the hard boiled eggs.  Cut each egg in half, length-ways.  Carefully scoop the egg-yolk out of the egg and place in a bowl.  Mix chives, mustard and lemon juice thoroughly into the egg yolk.  Carefully spoon the yolk-mixture back into the egg-whites  Place egg halves yolk-up onto a plate, cover and store in the fridge until ready to be eaten.  Cumin, paprika and olive oil mixed with the yolks  also makes a great filling.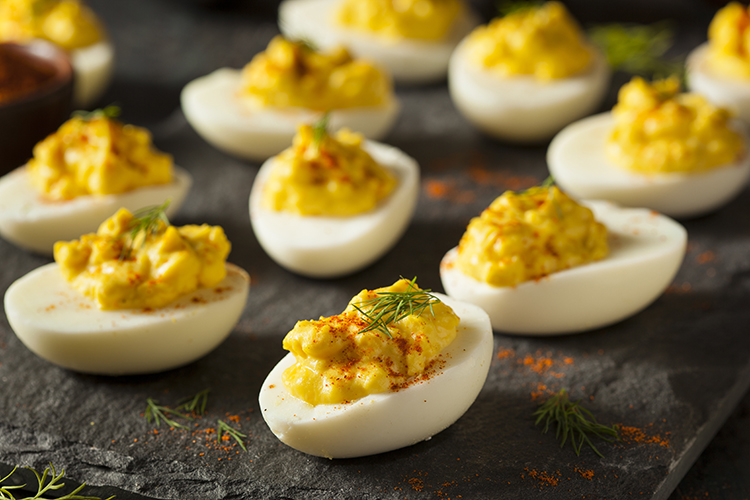 Read Next