Pizza doesn't have to be an unhealthy choice! Learn how to make your own healthy and nutritious pizza at home – saving money on expensive takeaway pizzas and getting extra nutrients along the way!
You can put whatever you like on your pizza so pile it high with veg, some light cheeses, or even some chilli powder if you want a bit of a kick! Read on to learn how to make it yourself.
You can buy good quality, ready-made bases, or use halved, large, crusty rolls or pitta bread. But it's fun to make your own if you have time!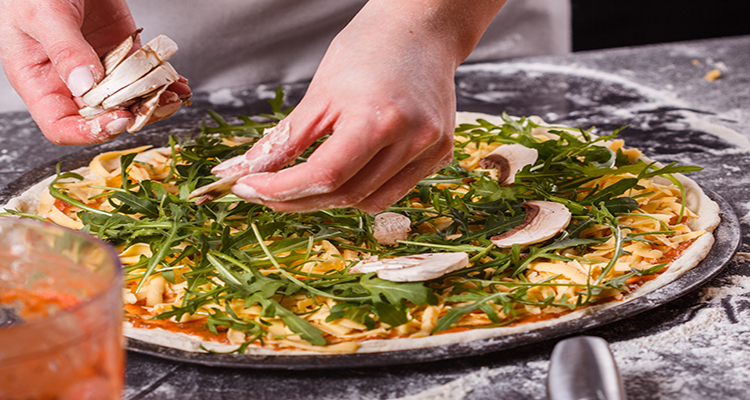 You will need:
200 g strong white bread flour
200 g wholemeal flour
1 x 7 g sachet dried yeast
Mix the flours and yeast with a pinch of salt in a food processor fitted with a dough blade
Pour in the water and mix to a soft dough, then knead for 1 min. You can do it all by hand – it's good exercise – but you will need to knead for longer. Look on YouTube if you need to see how to knead dough. When fully mixed, stretchy and soft, divide the dough into four balls and put on a flour dusted baking tray. Smear with a bit of olive oil then cover with clingfilm and leave in a warm place for an hour or so until doubled in size. (You can make your sauce and prepare your toppings whilst you wait).
Then spread out the dough balls on flour dusted baking tray until thin with a slight rim to hold the sauce. Drizzle with a little olive oil.
And, if you want something less filling, are gluten intolerant or are trying to cut back on heavy carbs, you can even experiment with alternative pizza bases – cauliflower  makes a surprisingly good one.
Tomato sauce:
You can buy this pre-prepared too but it will probably be full of sugar and preservatives. Yuck! Making your own takes 5 minutes and it's really easy.
Simply chop up an onion into small pieces and fry gently in some olive oil with a few cloves of finely chopped or crushed garlic. After a few minutes, throw in a tin of chopped tomatoes (or use fresh) and simmer for 20 minutes. You can add a bit of water or stock if you need to, to get it to the right consistency for spreading on your pizza. You can throw in some chopped herbs for added flavour – basil, oregano or thyme work well. Or even some chilli powder or a small amount of chopped fresh chilli or chilli flakes if you like it spicy!
Once it's cooked and cool, you can whizz it in a blender or leave chunky.
Now build your pizza:
This is where your creative skills can overflow! It's your pizza – top it how you like.
Spread some of the delicious sauce on to your base and then…
Choose from….
Meats and fish– like leftover cooked chicken or other roast meats. Processed meats like bacon, salami etc are less good for us so choose small quantities of good quality meats to act as a flavouring rather than the main attraction. Tinned tuna is good too – especially when paired with olives and feta cheese. Or smoked salmon is delicious – swap the tomato sauce for creme fraiche, spread on a cooked pizza base and top with rocket.
Veg – like sliced mushrooms, peppers, sweetcorn, fresh tomatoes, red onion, roasted squash or anything you can think of.
Other toppings – like pineapple chunks, herbs, hummus, olives.
Cheese – soft pieces of mozzarella or goats cheese, feta or grated cheddar.
Cook and serve:
Now cook in a hot oven 220ºC/425ºF/gas 7, ideally by sliding the pizza on to a pre-heated baking tray to get that extra heat that makes a good crispy pizza.
After around 10 minutes, when the cheese is melted and bubbling, your pizza is ready to serve.
You can dollop with a bit of Greek yoghurt, a few more fresh herbs or salad leaves and some olive oil if you like.
Tuck in and enjoy!
Read Next