Don't get me wrong – I don't subscribe to the ultra-low-carb fad. Yes, I don't eat loads of carbs and I avoid heavily processed, nutrient depleted carbs wherever possible, but wholegrains, pulses and more have heaps of health benefits.
In the summer, though, a heavy plate of wholemeal pasta or brown rice doesn't have the same appeal as on a cold winter's evening.
When the weather heats up I like to get my carbs and fibre from loads of the abundant veg that summer brings – vegetables are a great source of carbs as well as vitamins and other nutrients. Here are my favourite veg-swaps for summer…
Cauliflower rice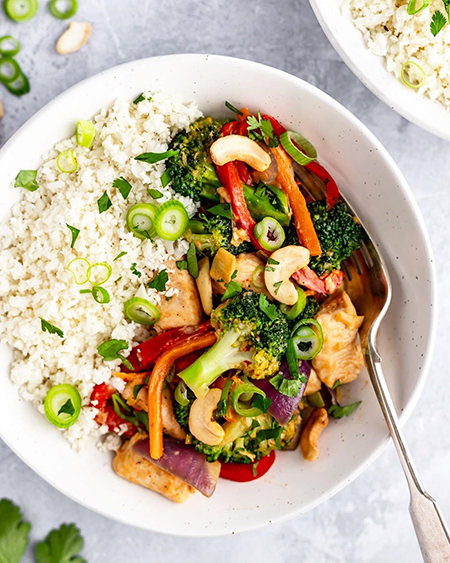 A veg packed Thai curry can be light enough for summer but a filling meal too. If a plate of brown rice is too much alongside though, try cauliflower rice. Simply grate fresh cauliflower and steam for a few minutes on the hob or microwave, ready to soak up the sauce of your curry or whatever else you fancy. I keep a bag of grated cauliflower in the freezer, ready to go in minutes.  We love the sound of this cashew ginger stir fry with coconut cauliflower rice from @ambitiouskitchen.
Courgette spaghetti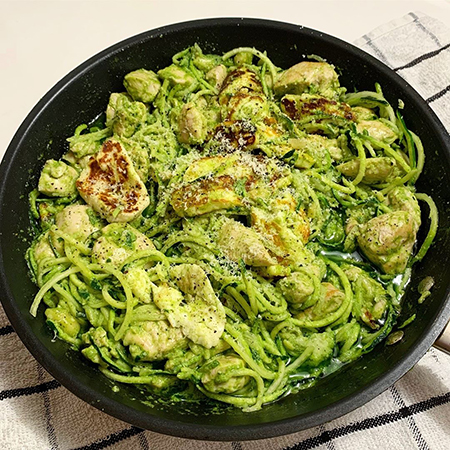 Spiralised veg is all the rage – but many fads come and go. For me, though, this is one that's here to stay. When the summer courgette glut hits they are a great, light alternative to pasta. If you don't have a spiralizer to make those appealing twirls you can try a sharp knife or mandolin… but a decent spiralizer makes it temptingly easy. And you can use it to make your salads more special too. @alexskitchenstory has a great recipe for courgetti, paired with chicken, halloumi and pesto.
Aubergine lasagne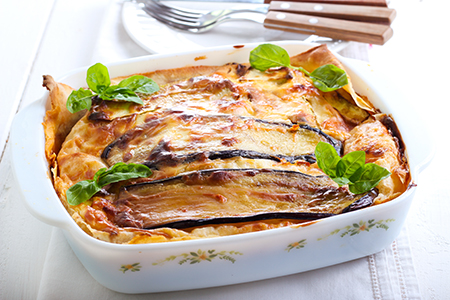 Whilst we are on the subject of pasta swaps, I love aubergine. A great hearty veg, already popular as a stand-in for meat, it also works well as a substitute for pasta sheets in lasagne. Not as quick and easy as other dishes, but makes a good filling meal and comes packed full of a wide range of nutrients and anti-oxidants.  Delish.com have a great version over on their website.
Lettuce wraps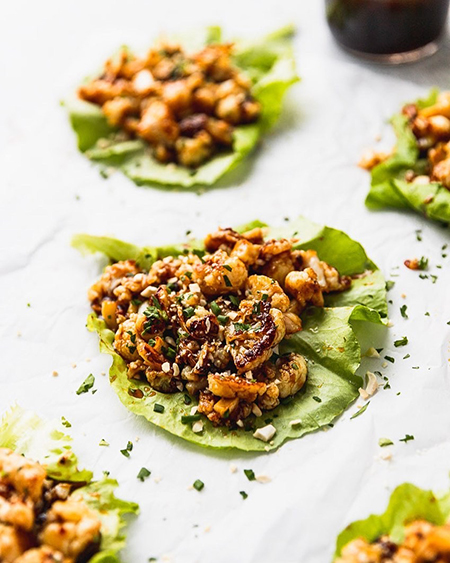 For a light lunch or quick snack, replace a tortilla wrap with a large lettuce leaf such as Romaine or Cos varieties and pack with whatever filling you fancy. I prefer this crispier version to a soggy corn or wheat flour wrap any day!  @Forkinthekitchen has a mouth-watering recipe for spicy teriyaki cauliflower lettuce wraps.
Kale crisps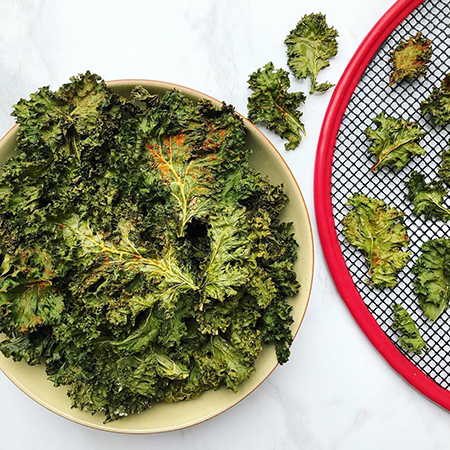 Another popular trick that has made it on to my keep list. Rip up a few kale leaves, sprinkle with olive oil, salt and pepper or a dusting of paprika and spread on a baking tray. Cook in a hot oven for just a few minutes (watch carefully to avoid burning) and you have a great substitute for potato crisps. Works well with parsnips, carrots and similar starchy veg too – and you can make it less oily and salty than many of the shop-bought versions. @eathappyfeelgood has some great tips.
Mushroom burgers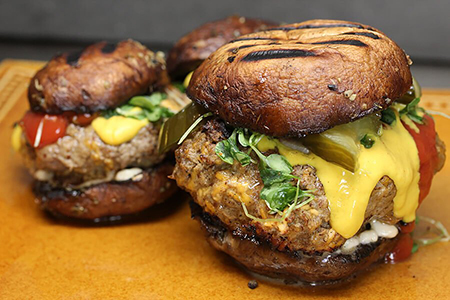 Like aubergines, mushrooms give great body and flavour to veggie dishes – and mushroom based, meat-free burgers are well known. But what if you love a fresh beef burger but don't want the stodgy bun? A couple of portobello mushroom caps can serve just as well as bread substitutes. A touch of oil and grill or roast for a few minutes whilst you cook your beef, and you have your quarter pounder with ease. Accompany with parsnip crisps or sweet potato fries plus a crisp side-salad for a veg-tastic meal!  Check out these delicious looking Guilt-Free Portobello Bun Burgers from Ruled.me.
Disclaimer: Articles are for general information only – customers should always seek their own independent advice. Vavista is not affiliated with the organisations/businesses mentioned and does not recommend or endorse any of the included products or services. For more information, click here.
Read Next