Sweet or savoury, carnivore or vegetarian… our Vavista dietitians have put together meal plan ideas and delicious recipes to help you boost your fruit and veg intake, effortlessly. We should be aiming for 5 portions of fruit and veg per day (ideally no more than 2 of them as fruit) but it can be hard to get those portions in, so we're here to help with some super nutritious recipes:
Veggie-packed chicken fajitas with homemade salsa
Here is an easy recipe for adding tasty veg to your plate. The recipe provides 4 portions of veg per person – almost hitting your 5-a-day quota! The beauty of this recipe is you can add or swap-in any veggies that you like, the more colour the better. You can also add to the condiments; I love thinly sliced mango to add to my fajita! If you're vegetarian, you can swap the chicken for kidney beans or tofu.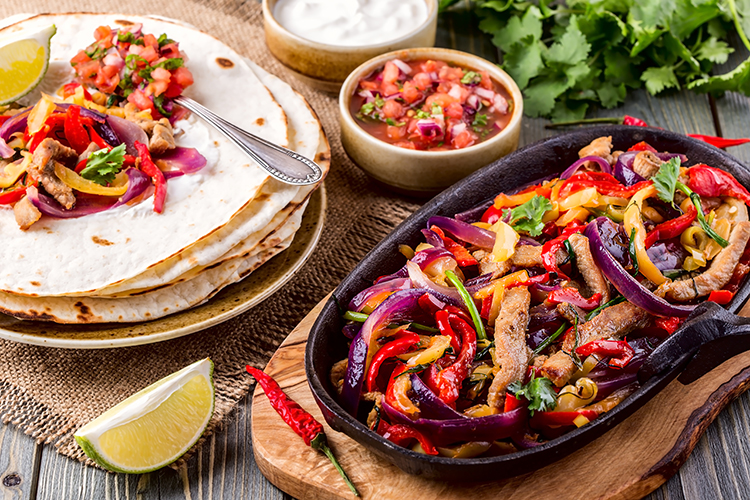 Feeds: 4
Ingredients:
4 small chicken breasts or tofu, diced
1 tbsp olive oil
1/3 red pepper, sliced
1/3 yellow pepper, sliced
1/3 green pepper, sliced
1 fresh beetroot, boiled and peeled, sliced into wedges
1 courgette, cut into semi-circles
1 bunch spring onions, diced
4 large handfuls spinach
1 tsp paprika
2 gloves garlic, crushed
Sprinkling of chilli flakes (to taste)
Handful coriander, chopped
For the salsa:
20 cherry tomatoes, finely chopped
1 small red onion, finely chopped
Juice of 1 lime
Handful coriander, chopped
Chilli flakes or fresh chilli (to taste, if desired)
8 wholemeal tortilla wraps
Natural yoghurt
Method:
Prepare the salsa. Combine all ingredients and amend to taste.
Fajitas must be eaten immediately so make sure you set the table first with the yoghurt and salsa ready.
For the fajita filling: Get the olive oil warming in a big frying pan or wok, medium heat. Add the diced chicken and toss until meat starts to go white all over.
Add peppers, beetroot, courgette, spring onions, paprika, garlic and chilli flakes. Keep tossing and turn up the heat a little so that everything is sizzling.
Warm tortilla wraps in microwave for 1 minute or in a dry frying pan. It's also good if the plates are warmed.
Once the chicken is cooked through and slightly chargrilled, add the spinach and stir through. Keep the heat on until the spinach has wilted.
Take off the heat, stir in the coriander and serve!
Quorn cottage pie with swede topping
One serving of this vegetarian friendly cottage pie provides a whopping 5 portions of vegetables! It's a great recipe to make in bulk and freeze for the week ahead.
Feeds: 2
Ingredients:
Oil
1 onion, chopped
2 garlic cloves, crushed
2 celery sticks, diced
2 carrots, diced
200g button mushrooms, halved
300g Quorn mince
200g canned chopped tomatoes
2 tbsp tomato paste
2 sprigs fresh thyme
60ml made-up vegetable stock
Dash of soy sauce
Freshly ground black pepper
600g swede, peeled and cubed
2 tbsp chopped parsley
Method:
Preheat the oven to 180°C, Gas Mark 4.
Put oil in pan and place over a low heat. Add the onion, garlic, celery and carrots and cook for 10 minutes until tender. Stir in the mushrooms and cook for 3 minutes. Add the Quorn and cook for 2–3 minutes, stirring occasionally, until browned.
Add the tomatoes, tomato paste, thyme, stock and soy sauce and cook for 10 minutes until the sauce reduces. Season with black pepper.
Meanwhile, cook the swede in a pan of boiling water for 10–15 minutes until tender. Drain well and mash with a potato masher. Season with black pepper then stir in the parsley.
Spoon the Quorn mixture into an ovenproof dish. Cover with the swede, roughing up the top with a fork, and bake in the preheated oven for 15- 20mins. Scatter with a little parsley and serve.
Homemade fruit sorbet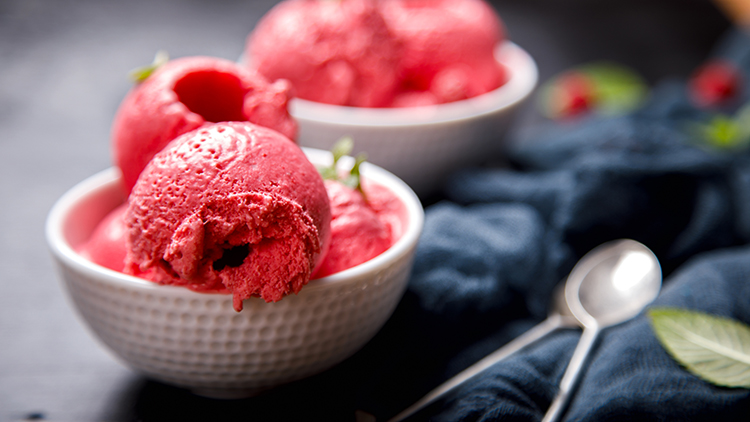 This is so easy to make, and there's no added sugar – so you'll never want to buy from the shop again! Provides 2 portions of fruit.
Feeds: 1
Ingredients:
2 handfuls of frozen fruit
100g natural or Greek yoghurt
Method:
Blitz the ingredients together and serve immediately!
Now for some meal ideas to help you reach your 5-a-day and almost certainly exceed it, depending on how many of the following you incorporate:
Breakfast
Add a handful of blueberries or raspberries (fresh or frozen) to your breakfast cereal or porridge
Add a handful of spinach or chopped cherry tomatoes into your scrambled eggs
Top your porridge with 4tbsp of blueberries
Fruit + Veg Count = 1
Lunch
Add a handful of rocket or lettuce to your sandwich
Add a handful of chopped cucumber and tomato to a cous-cous salad
Add a handful of peas to a rice salad
Add a side salad to a small jacket potato
Make a grilled chicken salad in a wholemeal tortilla wrap
Plus 1 piece of fruit
Fruit and veg count = 2
Evening Meal
Add a handful of rocket or spinach to sauces, chilli con carne, fajitas
Swap gravy for a homemade tomato sauce using chopped tomatoes
Add a handful of peas to your serving of rice
Grate carrots and/or courgette into soups and sauces for an undetectable veggie-hit!
Make grilled salmon, sitting on sweet potato mash and serve with 3 tbsp of green beans.
Homemade fruit sorbet (see recipe above)
Fruit and veg count = 3+
Snacks
Veg sticks with hummus or salsa
Small pot of fruit salad (about a handful)
250ml fruit smoothie with at least 2 handfuls of fresh or frozen fruit included
Handful of frozen grapes
3-4 dried apricots and with a small handful seeds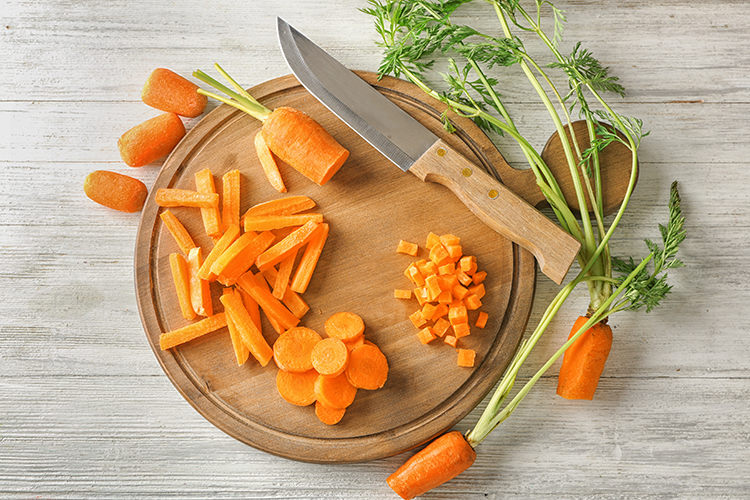 Fruit and veg count = 1+ each
There are some great fruit and veg subscription boxes available now, meaning you're getting fresh, seasonal produce delivered directly to your door.  Check out some of our favourites www.abelandcole.co.uk and www.riverford.co.uk.
Read Next