Invited to a summer barbeque, but worried about all of those food temptations? At Vavista, we share our favourite tips and tricks to help you stay on track with your healthy eating plans this barbeque season – along with some healthy yet delicious recipes for you to try out.
There's no getting away from it; come rain or shine, you'll undoubtedly be invited to numerous barbecues this summer. But fear not; with a little thought (and some confident willpower), the dreaded waist-stretching afternoon of over-eating can become a healthy, nutritious meal. These tips, tricks and recipes should help to make sure you're making the right choices…
Get the balance right
Have a good serving of good quality protein – whether meat, fish, chicken or a vegetarian source like tofu or beans. Avoid processed meat like sausages.
Then fill your plate with all the delicious salads or roasted veg that go so well with barbecue food.
If you want extra carbs than the veg and beans may provide, choose high fibre versions instead of processed white bread rolls or white rice and pasta. Sweet potato, sweetcorn or a lentil based salad are all good and filling choices.
This aubergine and tofu skewer recipe is a great way to incorporate both a lean, vegetarian source of protein from the tofu with the unique texture and flavour of nutrient-dense aubergine.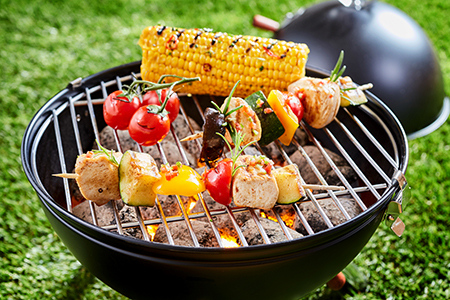 RECIPE: Tofu and aubergine Skewers
Serves 4
Ingredients:
1 medium aubergine, thickly sliced and quartered
1 block tofu, rinsed and dried on kitchen paper, cut into 1 inch chunks
Mango, Chilli and Lime marinade (see recipe below)
Method:
Place aubergine and tofu chunks into a large ceramic oven dish and spread evenly. Pour the mango, chilli and lime marinade over the chunks, mixing to ensure all fully coated.
Cover and leave to marinate in the fridge for between 8-12 hours.
Use 4 wooden skewers to equally layer the aubergine and tofu chunks into kebabs
Pop onto the BBQ, turning regularly
Enjoy! These work particularly well with some vermicelli noodles, especially with some leftover marinade mixed through
Make the right choices
Be mindful about what goes onto your plate, and into your mouth. Often there is an array of various alternatives to similar dishes such as bread rolls, salads, dips and meats; some will be better for your health and waistline than others. Use this opportunity to grab yourself a delicious, nutritious plate of fresh food with plenty of vitamins, minerals and antioxidants rather than just a greasy burger in a bun.
Choose higher fibre starchy carbohydrates such as wholegrain bread, pasta and rice, or potatoes with the skins on. Think about the dressings too; try to limit creamy dressings such as mayonnaise in a potato salad and choose an olive oil-based dressing instead;
Choose lean sources of protein such as chicken, fish and tofu. Red meats are beneficial in our diet for iron and B vitamins but are often high in calories and saturated fat; you might be better off choosing a lamb and veg kebab rather than a big chunky burger;
Fill your plate with the colourful array of vegetables and salad available. Dig in, they're pretty much unlimited – but again think about dressings and dips.
This Asian mango, lime and chilli relish is a tasty way to dress and marinade your dishes whilst providing vitamins and antioxidants without the high-fat content.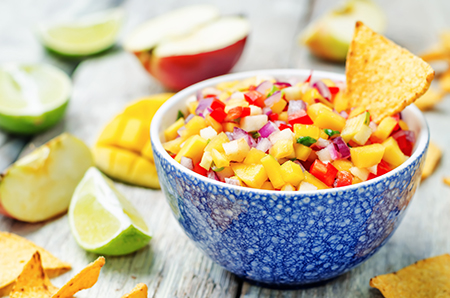 RECIPE: Mango, chilli and lime relish
Serves 4
Ingredients:
2 medium ripe mangoes, flesh scooped out
1 red chilli, chopped
Juice of 2 limes
1 thumb-sized chunk of ginger, peeled and chopped
2 cloves garlic, peeled and chopped
2 tbsp sesame oil
Method:
Simply use a blender to blitz all ingredients until smooth and combined. Voila!
Use as a marinade, spread onto a seeded bun or to dress an Asian-inspired noodle salad
Have a little of what you fancy
As soon as you deny yourself something, you're creating a negative association which once succumbed to can sabotage all healthy eating efforts. How many times have you thought "no I mustn't", then eventually given in and ended up thinking "forget it, I'll start again tomorrow, I've ruined my diet now". Instead, try to think about what you'd really like to try and incorporating that into your meal. With so much variety on display and at such easy reach it's easy to go overboard. Try these tips:
Share with others, automatically slicing your portion size
Just take 1 spoon of something as a taster if there are lots of things you'd like to try, keeping Tip 1 on portion sizes in mind
Prepare by choosing your dishes before you get to the buffet table
This recipe for vegetable crisps not only looks impressive, but will encourage you to choose a more vitamin-rich and lower fat savoury snack.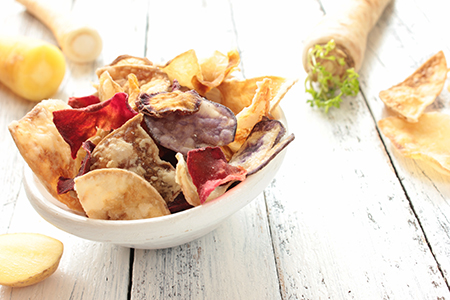 RECIPE: Veg crisps
Serves 4-5
Ingredients:
1 small beetroot, uncooked, peeled
1 very small sweet potato, peeled
1 large parsnip, peeled
1 large carrot, peeled
Seasoning (eg. Black pepper/smoked paprika) if desired – easy on the salt
Spray olive oil
Method:
Pre-heat the oven to 200⁰c
Prep your veggies by either using a mandolin or very sharp knife to create slices as thin as possible. Cut the beetroot and sweet potato straight down vertically and try slicing the carrot and parsnip diagonally.
Spray a few baking trays with some spray oil, then place a single layer of veg slices – avoiding any overlapping
Top the veg with another spritz of spray oil
Bake in the oven for 20 minutes, turning halfway until golden brown. Keep an eye on them, they may not need the full 20 minutes
Remove from the oven, cool and store in an airtight container
Dunking and dipping
Dips and dressings can be where all your efforts to make sensible food choices can be sabotaged. Add up your mayo-swamped potato salad, creamy caesar dressing and barbecue sauces and you could be exceeding an additional 500kcal on top of an already calorie-dense plate. This isn't to say avoid completely, just consider when choosing your dishes. Olive oil based dressings are better for your heart and overall health so an Italian-style balsamic dressing will be a better choice than a sugary, sticky barbecue or sweet chilli sauce or a creamy dip.
Here's an easy, tasty recipe for an olive oil-based balsamic dressing which is low in salt and sugars.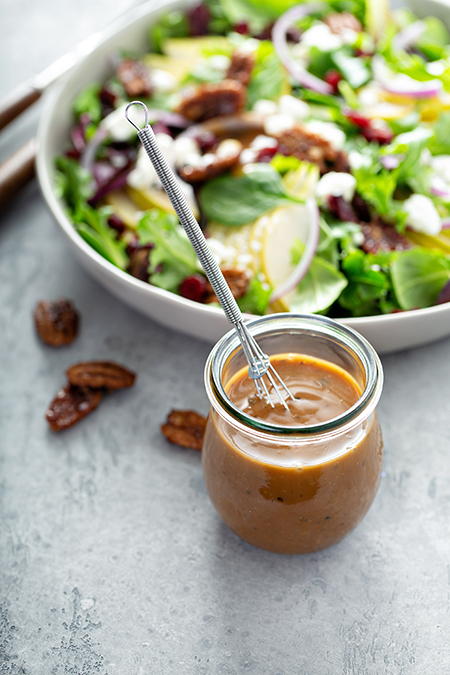 RECIPE: Balsamic Dressing
Makes 10 servings (1 tbsp each)
Ingredients:
6 tbsp Olive Oil
2 tbsp balsamic vinegar
1 tbsp wholegrain mustard
1/5 tbsp clear honey
1 small garlic clove, crushed
Method:
Simply pop all ingredients into a bottle (I use old olive oil bottles), put the lid on and shake vigorously like a cocktail
The dressing can be kept in the bottle; shake well before each use.
Remember you can easily double or triple the recipe to make a big bottle or reduce it for a mini-portion which can be taken with you to work
Read Next