One serving of this vegetarian-friendly cottage pie provides a whopping 5 portions of vegetables; perfect for some #MeatFreeMonday inspiration! It's a great recipe to make in bulk and freeze for the week ahead.
Quorn cottage pie with swede topping
Feeds: 2
Ingredients:
I tbsp olive oil
1 onion, chopped
2 garlic cloves, crushed
2 celery sticks, diced
2 carrots, diced
200g button mushrooms, halved
300g Quorn mince
200g canned chopped tomatoes
2 tbsp tomato paste
2 sprigs fresh thyme
60ml made-up vegetable stock
Dash of soy sauce
Freshly ground black pepper
600g swede, peeled and cubed
2 tbsp chopped parsley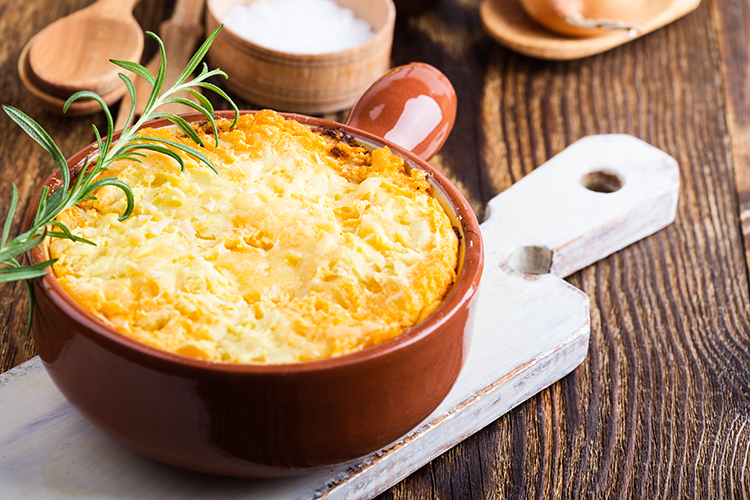 Method:
1.Preheat the oven to 180°C, Gas Mark 4.
2.Put oil in pan and place over a low heat. Add the onion, garlic, celery and carrots and cook for 10 minutes until tender. Stir in the mushrooms and cook for 3 minutes. Add the Quorn and cook for 2–3 minutes, stirring occasionally, until browned.
3. Add the tomatoes, tomato paste, thyme, stock and soy sauce and cook for 10 minutes until the sauce reduces. Season with black pepper.
4. Meanwhile, cook the swede in a pan of boiling water for 10 –15 minutes until tender. Drain well and mash. Season with black pepper then stir in half of the parsley.
5. Spoon the Quorn mixture into an ovenproof dish. Cover with the swede, roughing up the top with a fork, and bake in the preheated oven for 15-20 mins. Scatter with the remaining parsley and serve.
Read Next