Making a claim to an insurance provider can be stressful. Especially if it was your fault or could involve losing your 'no claims' bonus.
Insurance providers deal with claims every single day. According to a Statista study, approximately 11.8 billion pounds were paid in motor claims by UK insurance companies in 2020.[1]
We've listed the most common car insurance claims made so you can try your best to avoid becoming a statistic.
1. Windscreen Damage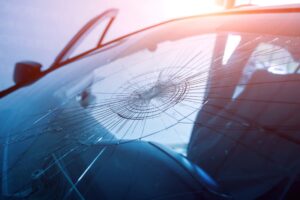 Windscreens can be damaged very easily. Whether it's a small chip from a stone hitting your window or larger crack, windscreen damage is one of the most common car insurance claims.
It's tempting to leave a small chip, but this can spread quickly if you drive over a bump, hit a pothole, or experience a fast change in temperature. This can then obstruct your view of the road, which can be very dangerous. It's important to get your windscreen fixed as soon as you possibly can before it gets worse. Here's just a few reasons:
Getting a chip fixed is cheaper than fixing a large crack or replacing an entire windscreen.
Having a damaged windscreen can make you fail your MOT.
If you were to be stopped by the police whilst having a damaged windscreen, you could receive a fixed penalty of 3 points on your licence and a fine.
Not all insurance policies cover windscreen damage, so check your policy documents if you aren't sure.
If you're a Vavista  customer, you can find out more about making a windscreen damage claim here.
2. Theft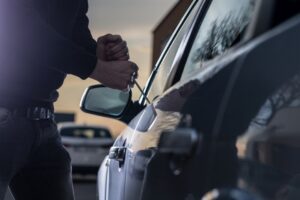 A theft claim doesn't always involve having your entire car stolen. It could be that someone has smashed the window and taken your new upgraded stereo system or even spare change.
A lot of newer vehicles now have keyless ignition or entry, we strongly recommend you investigate steps you can take to protect your vehicle.
Whatever has been stolen, you'll need to inform the police and get a crime reference number to be able to report it to your insurer.
The Citizens advice bureau suggest if it's just your possessions that have been stolen from your vehicle, you might be able to choose between claiming on your home contents insurance or your vehicle insurance. This depends if the items stolen are covered on your home insurance and where your car was when it was broken into. You'll have to check your policy documents to make sure this is the case.
If you are looking for home insurance, head to Vavista Home Insurance page for a quote.
You can try and make theft harder by parking your car in your garage, or by fitting your car with an immobiliser if you don't have one. Be sure to let your insurer know if you make any changes like this, so your insurance remains valid. Looking after your car keys can also help to prevent someone stealing your car too, if you lose your keys or think they have been stolen check your policy documents to see if you have key cover.
3. Whiplash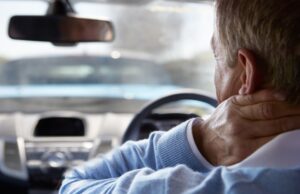 Whiplash is one of the most common injury claims when it comes to road traffic collisions (RTC's). Whiplash is a neck injury that is caused by muscles in the neck over extending. This is common within RTC's due to the impact of a crash throwing your head forward.
More than 1500 whiplash claims are made a day in the UK[2]. However, whiplash is also very difficult to detect, making it a prime claim for fraudsters.
Because of this, in 2021, the government brought in the Whiplash Reform Programme to prevent false whiplash claims. It limits the amount you can be rewarded for whiplash and means you must provide medical evidence to prove your claim is genuine.
If you think you may have whiplash as the result of an accident you can claim whether you are the driver or any of the passengers.
4. Damage to parked vehicle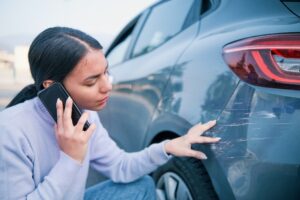 If you come back to your car and there is clear damage that wasn't there when you left it, it can be hard to know what to do. This could be because of:
A car door hitting yours when being opened.
Someone hitting your car when reversing into a bay.
Or a full hit and run when your car is parked on the street.
Whatever happened, take photos and ask if anywhere around has CCTV or some ring doorbell footage you could use. You can fit your car with a dashcam, which may help you to find a driver if they do cause any damage to your car and leave the scene.
5. Rear-end crash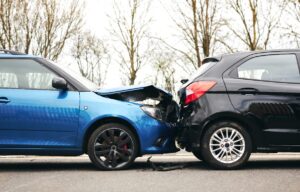 Rear-end crashes are very common, especially when a driver is distracted and has not seen you stop. Occasionally, these are incidents of "crash for cash". This is where drivers deliberately cause accidents to achieve an insurance pay out. This can involve a car in front of you slamming on their brakes for no reason to cause the driver behind to go into the back of them.  If you think this could be the case, it's important that you tell us about the accident as soon as possible.
If you're worried about ending up in one of these situations it may be worth getting a dashcam, not only do they act as a visible deterrent to criminals targeting you, but you'll also have footage of the incident to support yourself in the event of an insurance claim being taken out against you[3].
You should also never use your phone while driving. Not only is it illegal, but it also puts you at a huge risk of ramming into the back of another vehicle.
Though these situations can't always be avoided, it's important to protect yourself as best as you can. By having adequate car insurance coverage, you can have peace of mind knowing you're protected.
Why not read of one What to do if you have an accident blog?
Need to make a claim?
Call us on 0344 840 9503
[1] Total motor claims paid UK | Statista
[2] Making A Whiplash Insurance Claim | MoneySuperMarket
[3] Insurance Fraud Bureau | A 'Crash for Cash' every four minutes – Drivers urged to report widespread car crash scams on Crimewatch Live feature
Read Next