If you're looking for some healthy dinner inspiration, we're sharing 3 healthy fish recipes for Spring.
Fish Pie
Serves 4
Ingredients:
1 large sweet potato, peeled and cubed
400g potatoes, scrubbed and cubed
1 leek, finely sliced
2 rounded tablespoon butter
2 heaped tablespoon flour
¼ teaspoon cayenne pepper
¼ teaspoon grated nutmeg
½ teaspoon dried English mustard or 1 teaspoon wholegrain mustard
600 ml semi skimmed milk
1 bay leaf
500g mixed fish fillets (such as salmon, smoked haddock, coley, and pollack)
2 tablespoons chopped dill
2 tablespoons chopped parsley
Salt and pepper
50g grated Cheddar cheese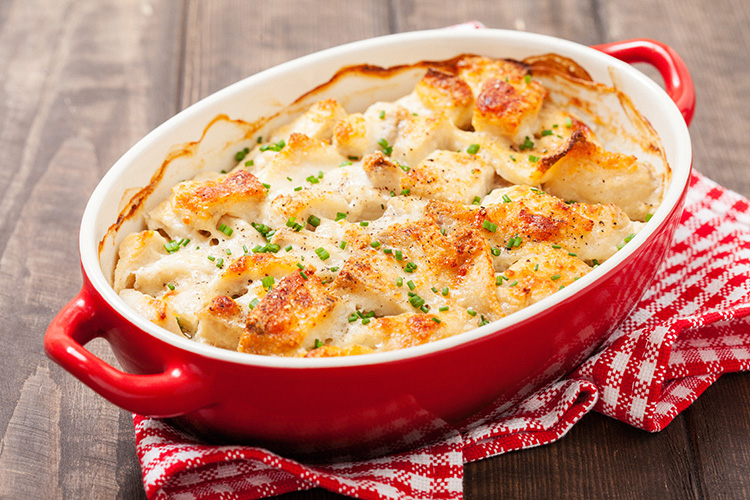 Recipe:
1. To make the topping place the potatoes in a large saucepan and cover with water. Bring to the boil and simmer for about 5-10 minutes until just tender. Drain and set aside to cool.
2. Melt the butter in a large saucepan stir in the leeks and cook for 2-3 minutes until starting to soften. Sprinkle in the flour, cayenne pepper, nutmeg and mustard and cook for 1-2 minutes.
3. Remove from the heat and gradually stir in the milk, add the bay leaf. Cook, stirring all the time, over a gentle heat until the sauce has thickened. Leave to cool.
4. Skin and pin bone the fish fillets and slice the fillets into chunks.
5. Remove the bayleaf and stir the prepared fish, dill and parsley into the cooled sauce. Season with salt and pepper and spoon into a large shallow oven proof dish.
6. Cover the fish mixture with the cooked potatoes and sprinkle over the cheese.
7. Place the dish on a baking sheet in a preheated oven 200°C/Gas Mark 6 and cook for 30minutes, until topping is golden brown and centre of the dish is piping hot.
Try this with a mixture of fish and shellfish, or add chopped hard boiled eggs. For the topping try a mixture of mashed root vegetables – potatoes, parsnip and carrot.
Kedgeree
Serves 6
Ingredients:
350g basmati rice
½ teaspoon turmeric
350g smoked fish, such pollack or haddock, skinned
300ml milk
75g butter
2 teaspoons medium curry powder
1 teaspoon ground ginger or 2 teaspoons grated fresh root ginger
1-2 red chillies (depending on taste), seeded and chopped
2 bunches of spring onions, finely sliced
Salt and freshly ground black pepper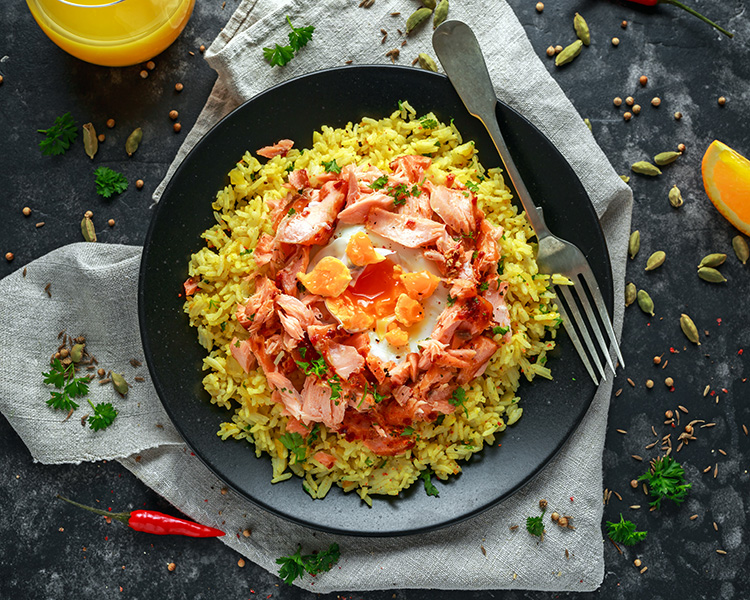 Recipe:
Cook the basmati in boiling salted water with the turmeric for 10-12 minutes or until tender. Drain and leave in a colander for a few minutes.
Cut the fish into 4cm pieces and put them in a large saucepan. Pour over the milk and add enough cold water to cover the fish. Bring slowly to the boil, reduce the heat and poach for 3-4 minutes or until the fish is cooked and opaque. Drain away the liquid and set aside.
Melt the butter in a large saucepan or casserole and add the curry powder, ginger, chillies and spring onion. Stir over a medium heat for 3-4 minutes or until the onions are quite soft.
Add the drained cooked rice and stir together until the whole is well mixed. Gently fork in the cooked fish, taking care not to break it up too much.
Adjust the seasoning to taste and serve immediately.
Roast salmon fillet with ginger and chilli dressing
Serves 4
Ingredients:
750g/1½lb salmon fillet – unskinned and pin-boned
salt and freshly ground black pepper
For the dressing
2 tablespoons rice wine vinegar
grated zest and juice of 2 limes
4 tablespoons extra virgin olive oil
1 tablespoon sesame oil
2 tablespoons light soy sauce
2 tablespoons root ginger – grated
1 teaspoon honey
2 red chillies – seeded and finely chopped
a handful of coriander – chopped
salt and freshly ground black pepper
Recipe:
1. Heat the oven to 200ºC/400ºF/gas mark 6.
2. Put the salmon onto a large oiled baking sheet, skin side down.
3. Bake for 15-18 minutes or until the fish is opaque and will flake if gently pressed.
4. Mix together the dressing ingredients and season to taste.
To serve: remove the fish from the oven, lift onto a serving dish and spoon over the dressing.  Serve with rice or noodles.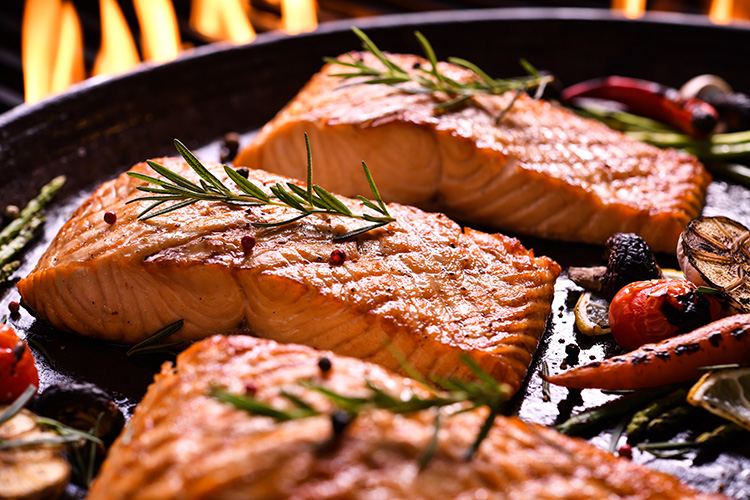 Loving these 3 Healthy Fish Recipes for Spring? Then check out some free ingredients you can find right on your doorstep in the UK with our guide to foraging!
Read Next